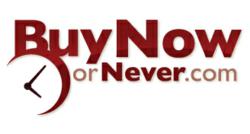 As our products and categories continue to grow, we will continue to enhance our customer's shopping experience
St. Louis, Missouri (PRWEB) March 26, 2012
BuyNoworNever.com is pleased to announce the launch of a new web site. The new site has been redesigned to focus on elements that enhance the shopper's experience. Cleaner category and product pages call out the things that matter most to consumers such as the price. While the site still maintains a comparison feature, less labeling of prices keeps it simple and straightforward. The less cluttered approach keeps consumers from feeling overwhelmed with information and enhances the consumer's discount shopping experience.
Sharing pages and bargains via Facebook, Twitter and other social media applications is easy at BuyNoworNever.com. A prominent sign up has been added to the home page so that consumers can take advantage of special email offers and product updates. In addition, a stunning home page illustrates the deal of the day, enticing consumers to check the site daily for new bargains. Scrolling animation on the home page allows a quick view into some of the discount categories including women's designer handbags, area rugs and designer inspired jewelry.
Shopping for favorite bargains in women's handbags, accessories, home furnishings and area rugs is effortless with BuyNoworNever.com's new site launch. "As our products and categories continue to grow, we will continue to enhance our customer's shopping experience," said Kathy Leffler, President of BuyNoworNever.com. In addition, the outlet website continues to offer a Low Price Guarantee and Hassle Free Return Policy, so that customers can shop in confidence.
About BuyNoworNever.com
Founded in 2010, BuyNoworNever.com is an online store that sells authentic designer handbags, jewelry, watches, women's accessories, home furnishings, rugs and luggage at discounted prices up to 80 percent off retail price. BuyNoworNever.com offers a Low Price Guarantee and a 30-day return policy. To be notified of the latest special offers and promotions, sign up for emails on BuyNoworNever.com, 'like' us on Facebook or follow us on Twitter at twitter.com/buynowornever.