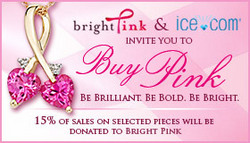 We are so grateful for Ice.com's continuing support and commitment to encourage women everywhere to take a proactive stance with their breast and ovarian
Montreal, QC (PRWEB) September 3, 2008
Ice.com, the trendsetter and tastemaker in jewelry, and Bright Pink today announced the launch of its second annual Buy Pink event. For the months of September and October 2008, Ice.com will donate fifteen percent of sales on nine select jewelry pieces to Bright Pink, a unique non-profit organization that arms young women at risk for breast and ovarian cancer with education, support and a sense of community.
Approximately 1 in 8 women are diagnosed with breast cancer in their lifetime and this year over 22,000 women will die from ovarian cancer. Bright Pink is making the difference in the fight against these devastating diseases by educating women so they can make informed decisions about their health. Bright Pink was created by a courageous young woman, who at 23 opted to have a bilateral prophylactic mastectomy after testing positive for the BCRCA 1 gene, putting her at up to a 90% risk of developing breast cancer.
"Ice.com is proud to support Bright Pink for the second year with Buy Pink program" said Pinny Gniwisch, Founder and EVP, Marketing, Ice.com. "We hope to bring awareness to our customers and site visitors and provide Bright Pink the support they need to continue their worthy cause"
"We are so grateful for Ice.com's continuing support and commitment to encourage women everywhere to take a proactive stance with their breast and ovarian" said Lindsay Avner, Founder and Executive Director, Bright Pink.
To learn more and see the full collection:
About Bright Pink
Bright Pink is a unique resource providing support to young women who are at high risk for breast and ovarian cancer. We arm young women with knowledge, options and a great attitude, and offer companionship and empathy during their journey. We empower them to take control of their breast and ovarian health and in turn, grant them the freedom and peace of mind to live a beautiful and fulfilling life.
About Ice.com
Ice.com is the trendsetter and tastemaker in the jewelry business. As one of the largest and most respected online jewelers, Ice.com has served over half a million satisfied customers since 1999 and is committed to providing customers the best value, quality, service and selection of diamond, pearl and gemstone jewelry in the world. Ice.com jewelry experts strive to stay ahead of style and fashion trends to offer customers the very latest in jewelry styles in a secure and trusted online destination.
###