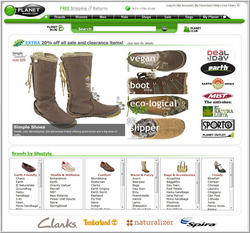 Launching the new site during our busiest sales season was a little risky, but we knew our customers would love the new features, browsing capability and improved online experience, so we decided to go for it
Waltham, MA (PRWEB) January 31, 2009
Massachusetts based online shoe retailer, Planet Shoes, found on the web at PlanetShoes.com, enjoyed record breaking sales in December in response to the launch of their newly designed website and refreshed branding. Incorporating new technology and enhanced usability, sales were up 90% in the crucial weeks leading up to the Christmas holiday.
"Launching the new site during our busiest sales season was a little risky, but we knew our customers would love the new features, browsing capability and improved online experience, so we decided to go for it," explained Barry Bresnick, Executive Vice President of Planet, Inc. "We focused on making the site more sophisticated and easier to use while maintaining existing features for the sake of continuity. We also overhauled our checkout, return and customer service functionality to make sure the entire user experience, from start to finish was improved."
While PlanetShoes.com maintained its basic navigation so users can shop by gender or brand, they have also classified their shoes by lifestyle, including Health & Wellness, Warm & Fuzzy, Trendy and their popular earth friendly shoes section, for which they are becoming widely known. Users can also now narrow choice by color, size, width and price and they can search for multiple brands at a time.
"Our goal in the navigation was really to help people have the flexibility to browse the site any way they chose. Some folks like to shop by the style of shoe, some are very brand loyal and others are looking for a great bargain or a hot new trend. Now users can really make the shopping experience their own which we believe is one of the cornerstones of good customer service," said Bresnick.
Providing detailed images of their shoes, boots, sandals and accessories has always been a priority for Planet Shoes and now customers can see a shoe from multiple angles by mousing over any detail of an image to zoom in and get an even closer look. An additional right column lets the customer see their shopping cart at all times, their favorites and what they have recently viewed.
"We're really excited about the enhancements at the item level view. We know how important it is to a customer to be able to really examine a shoe, especially one that is a little more expensive. With this technology you can see every stitch," explained Bresnick.
Improving sales in a difficult economy is a challenge every ecommerce site faces, so Planet Shoes also spent a great deal of time to looking at the usability, security and functionality of their checkout funnel and customer service functions as well.
"Security is our highest priority and we knew we had to maintain the highest standards while still improving the user experience. We're so excited that the enhancements that have made our sales improve without sacrificing any customer information protection. Likewise we've made it even easier to get in touch with us via Live Chat, Call By Skype, our Phone Number or you can Request a Call Back. Our return functionality was overhauled too - we really left no stone unturned. At the end of the day, I think we've managed to get a lot of information to the user in an elegant and uncluttered way and we're very excited that our traffic and sales support the changes we've made. Now we can't wait to see what the New Year will bring!"
About Planet Shoes
Planet Shoes, on the web at PlanetShoes.com is a family owned business dedicated to selling the most comfortable shoes possible at value prices. We specialize in Active, Comfortable, Healthy, Earth Friendly products with a flare of Fashion. Our product lines are ever expanding to bring our customer new fun footwear to choose from. We look at affordability and value in pricing our products. Customer service and unique products are our calling card. Planet Shoes strives to exceed your expectations. Contact us directly at 1-888-818-SHOE (7463) or via e-mail info (at) planetshoes (dot) com .
###