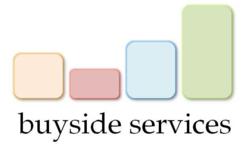 Dallas, TX (PRWEB) November 17, 2011
Buyside Services uniquely offers independent deal evaluation and execution services to the middle market investment community. The nationwide Buyside Services team leverages an average of over nine years of middle market deal execution experience across private equity, investment banking and corporate development to provide customized solutions for the most complicated situations.
A deal professional's time and junior resources are consumed by a myriad of sources, and therefore it is reassuring to have a partner in Buyside Services who can instantly expand your firm's analytical capacity on an as-needed basis.
Clients will receive sophisticated value-add analyses with the same responsiveness of an in-house employee, while significantly reducing overhead expenses for employee downtime, data provider subscriptions, benefits and incentive compensation.
Having spent the bulk of our careers in the middle market, we understand the challenges and opportunities for doing deals with complex companies that lack sophisticated business processes and controls.
LPs are currently becoming more active in their pursuit of returns while the competition for winning deals is at an all-time high. Buyside Services will provide expert, yet cost effective, financial analytics and market research which will allow senior investment professionals to focus on deal sourcing and the value-add activities to drive better shareholder returns.
###