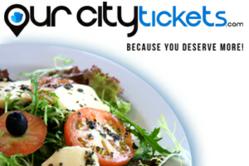 "We attribute our high rate of returning customers to the fact that we believe in showing our appreciation with rewards, like giving ticket buyers the Free Restaurant Gift Cards with their purchase," said Doug Safriet, CEO of Our City Tickets
STATESVILLE, North Carolina, June 27, 2013 (PRWEB) June 27, 2013
Announcing a new place to buy tickets online. Our City Tickets opened their virtual doors in April of this year and immediately began shaking-up the online event ticket industry. Today they are pleased to share several major announcements on how they are revolutionizing the online ticket buying experience for consumers, by offering perks and rewards to event ticket buyers who choose Our City Tickets.
The first announcement is Our City Tickets' new relationship with Restaurant.com and the infusion of event tickets with Free Restaurant Gift Cards. The Free Gift Card that ticket buyers will receive with their order is based on the total purchase price, and range in value from $10 up to $100. The program is explained in detail at their website, http://www.OurCityTickets.com. Since beginning this program in May, the company has noticed much higher-than-average repeat customers.
"We attribute our high rate of returning customers to the fact that we believe in showing our appreciation with rewards, like giving ticket buyers the Free Restaurant Gift Cards with their purchase," said Doug Safriet, CEO of Our City Tickets' parent company, MBD Marketing Group.
"That's also why we chose the tag line, "Because you deserve more!" We care about the consumer and want to give them good reasons to shop Our City Tickets for all their event ticket needs. It was with that promise in mind that we reduced our shipping rates to the bare minimum as well," added Safriet.
Another development at Our City Tickets is their new affiliate program. The program gives individual website owners the ability to promote event tickets on their own websites and be paid a commission for all ticket sales generated. As a perk, all affiliates may also use their own links to buy event tickets for themselves. This allows them to get 7% back after their ticket purchase, and receive and enjoy the Free Restaurant Gift Cards for themselves as they build their business.
"Because of the changing economy, we at Our City Tickets believe everyone deserves more value for their money, including our affiliates," said Brian Fairo, Founding Partner of MBD Marketing Group.
"We work from that belief and are being rewarded in-turn by Google when they serve up more of our pages to people who search for, among other things, 'best place to buy tickets online.' Google doesn't show irrelevant pages more than once, and we keep showing up in part because no one else gives a Free Restaurant Gift Card with every online ticket purchase," added Fairo.
The cards are given whether the customer buys tickets online, or by phone.
Our City Tickets website was launched in April, 2013 and is owned by MBD Marketing Group, LLC, based in Statesville, North Carolina, which also owns the online radio network OurCityRadio.com, a worldwide network of Internet radio stations.
Media Contact:
Doug Safriet
1-215-268-7592
maxxfairo1(at)gmail(dot)com
http://mbdmarketinggroup.com/contact-us/
You can call me anytime tonight if you have ANY questions!