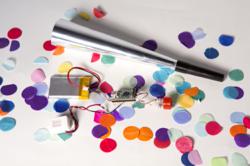 Chicago, IL (PRWEB) December 31, 2012
There's no shortage of ways to ring in the New Year, but naturally, our nation's creative directors are always looking for ways to make life more social and engaging. And, now, safer. Introducing Buzzed Buzzer, the first New Years Eve noisemaker that only works when you're drunk. This DIY party horn is designed to identify the life of the party and help everyone avoid DUIs and accidents. The video demo for the Buzzed Buzzer can be viewed here:https://vimeo.com/55819564
Anyone able to navigate the aisles at Radio Shack and plug in a soldering iron has all the experience necessary to build their very own Buzzed Buzzer. Instructions for converting a noisemaker into an electronic breathalyzer can be found at buzzedbuzzer.com along with the schematics.
The hacked horn's hoots aren't generated from a plastic reed. Noise is created by an electronic buzzer that's connected to a teensy computer called an Arduino. When a reveler blows into the instrument, the computer can sense the presence of alcohol on the breath and the buzzer is engaged if it detects booze. Conversely, teetotalers won't get a peep out of the noisemaker.
The Buzzed Buzzer was developed by Havas Worldwide Chicago's executive creative director Tyler DeAngelo and technologist Sacha De'Angeli.
About Havas Worldwide Chicago
Havas Chicago is a leading integrated marketing communications agency serving clients including Cracker Barrel Old Country Store, Reynolds, Hefty, PlayStation, Citigroup, EFFEN® Vodka and Sauza® Tequila. Havas Chicago is part of the Havas Worldwide network, which is made up of 316 offices located in 75 countries throughout Europe, North America, Latin America and Asia-Pacific. The network, named to Advertising Age's 2010 A-List and deemed Campaign's 2009 Network of the Year, provides advertising, marketing services, interactive/social media and corporate communications solutions to global, regional and local clients.