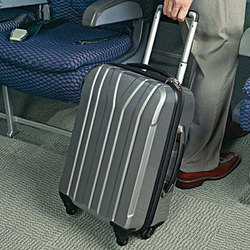 Merrimack, NH (PRWEB) April 29, 2009
Innovative product developer and specialty retailer Brookstone, Inc., today announces that it has won four Buzzillions® 2008 Reviewers' Choice Awards from online product reviewer Buzzillions.com. Heading up the list of award-winners were unique gifts like the Brookstone Dash Rolling Carry-on Luggage, which won for Best Overall Luggage, and the iNeed® Lumbar Massage Cushion, which took Best Overall Massager.
Shoppers can find premium gifts at Brookstone stores nationwide or online at Brookstone.com. Brookstone's 2009 gift assortment is sure to have innovative ideas that will thrill your recipient and make the occasion truly special. And with best-selling gifts from only $25, you can be sure you'll find the perfect gift at just the right price.
Brookstone won top honors in four customer-review categories
(all products available at Brookstone.com):
Best Overall Luggage:
Dash Rolling Hardside Carry-On Luggage -- $69.95
Tired of dragging your uncooperative bag through the airport? You need Dash--it rolls, spins, and keeps you moving! Dash is the carry-on that keeps up with you, switches direction on the fly, and holds enough stuff to make quick trips a no-brainer--all in a tough little hardside that treats your clothes like precious cargo. 4 multi-directional wheels spin, pivot and scoot to keep pace with quick changes and sudden stops. Ultra-light--weighs less than 8 lbs. Interior straps and a zippered panel keep everything in place. 13" w x 8" d x 19" h (with wheels). Available in a variety of colors. (Item #576272)
Best Overall Massagers:
iNeed® Lumbar Massage Cushion -- $59.95
Knead away daily stress with the Shiatsu back massager that fits into any chair. Whether you're hard at work at the office, paying bills at home, or just relaxing after a long busy day, you can now enjoy a deep-kneading Shiatsu massage any time you like. The iNeed® lumbar back massage cushion straps to the back of any chair and features four dual-node rotating massagers. It sends soothing Shiatsu massage deep into tight muscles of your lumbar region to relieve aches, tension and fatigue. Includes AC adapter and zip-up travel carry case. (Item #565580)
Special Offer: For a limited time, get a FREE Navy My Pillow ($29.95 value) with the purchase of an iNeed® Lumbar Massage Cushion.
Best Night Stands (for Mid-Range Shoppers):
Brookstone Reader Night Stand -- $199.95
Say goodbye to teetering piles of books, magazines and newspapers, and meet the open-shelf night stand made for the true reading enthusiast! This bedside table's smart design provides abundant, organized storage, exactly where you need it. The stand neatly holds a variety of reading materials on six open shelves, making it easy to categorize reading by type and size. The design makes your reading of choice easier to locate, too. It's perfect by the bed, and also handy next to the couch or your favorite reading chair. Available in Mahogany or Distressed Black. Assembly required. 15" w x 15" l x 31" h. (Item #543835)
Best Overall Travel Accessories:
n•a•p® U-Shaped Travel Neck Pillow -- $25.00
No more stiff-neck napping! Take one of these pillows with you the next time you travel by road or air and you'll find it much easier to get some sleep. Our u-shaped travel pillows are filled with thousands of cushy microbeads to provide gentle support that correctly aligns your neck and spine. Made of Brookstone's exclusive, ultra-plush NapSoft® material, the pillow cover soothes your skin with warm, sumptuously soft comfort. Available in a variety of colors. (Item #540039)
Special Offer: For a limited time, SAVE $10 when you purchase two n•a•p® Travel U-Pillows, now only $20 each.
Winners of the Buzzillions® Reviewer's Choice™ Awards are selected based on the opinions of real consumers who have purchased and used the product and posted their opinions on Buzzillions.com, the Web's premier hub for customer reviews. Buzzillions is the only product review site that categorizes its reviews by "user personality" so that consumers can get ratings and reviews from people just like them.
About the Buzzillions® Reviewers' Choice™ Awards
Buzzillions® Reviewers' Choice Awards are selected utilizing a special algorithm that ranks products reviewed by consumers in the calendar year of 2008. This algorithm incorporates star ratings, number of reviews and the reliability of the reviewers (reviews by "Verified Buyers" are given more weight). The #1-ranked product is awarded "Reviewers' Choice Winner" status. The #2 - #5-ranked products are awarded "Reviewers' Choice Finalist" status. Buzzillions.com, which has nearly five million reviews, is a one-stop product research site for consumers, providing reviews and recommendations from real product users for more than 700,000 products in thousands of categories, including consumer electronics, apparel, sporting goods, health & beauty and home & garden.
About Brookstone
Brookstone, Inc., is an innovative product development company and specialty retailer of unique gifts. Brookstone operates 310 stores nationwide and in Puerto Rico. Typically located in high-traffic regional shopping malls and airports, the stores feature unique and innovative consumer products. The Company also operates a Direct Marketing business that includes the Brookstone catalog and an e-commerce website at Brookstone.com.
Contact:
Judy Lurie
603.577.8033
###