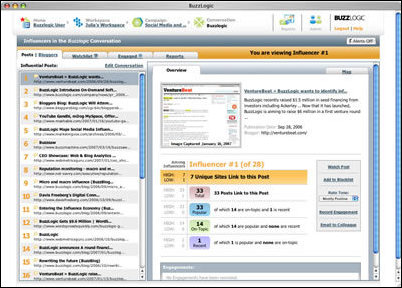 Organizations are scrambling to understand how to gain visibility and take effective action in a dramatically changed media and marketing landscape
San Francisco (PRWEB) April 16, 2007
BuzzLogic announced today the commercial availability of its on-demand software, BuzzLogic Enterprise. The BuzzLogic solution enables marketers to identify key online influencers leading the conversations they care about within social media, such as blogs and social networks, and use this information to engage opinion leaders to better manage their brands, products and customer relationships.
"Most of the customers and candidates we aim to connect with can be found online," said Jennifer Gerlach, vice president of marketing for Protuo.com, the first web-based career portfolio management service, and BuzzLogic beta customer. "We're relying on BuzzLogic to help us focus our listening and outreach on the social media opinion leaders who are helping to advance the science and technology of human resources management and recruiting."
The BuzzLogic beta program, launched in September 2006, counted 164 beta customers, many of which are Fortune 500 companies. Key verticals during the test period included consumer goods, entertainment, technology, political organizations and interactive marketing and public relations agencies.
Developed and refined over the past two and one-half years, BuzzLogic's software generates social maps to illustrate who is most influential within an online conversation by visually depicting how communities form around key content and individuals. BuzzLogic empowers marketers to take action by highlighting what is being said, who is saying it, how popular the content and/or author is at any given moment, and whether the author's influence is growing or diminishing. Marketers can then engage the opinion leaders who matter, track how messages spread and asses their impact.
"Organizations are scrambling to understand how to gain visibility and take effective action in a dramatically changed media and marketing landscape," said Rob Crumpler, BuzzLogic President & CEO. "Our beta customers have gotten keen insight into the online communities that matter to their brands, products and reputations, and are now engaging the influencers who are shaping and leading those communities."
BuzzLogic offers the features and scalability large companies require, yet is affordable for mid and even small-sized companies. Pricing for BuzzLogic Enterprise starts at $12,000 per year.
About BuzzLogic
BuzzLogic is a San Francisco-based on-demand software company that empowers marketers to identify who is influential within specific conversations taking place in social media, and to use this information to better manage their brands, products and customer relationships. More information about BuzzLogic can be found at http://www.buzzlogic.com.
###