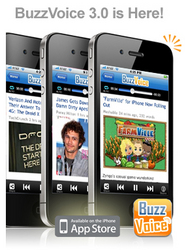 The BuzzVoice Real-time Platform transforms breaking stories from 1,600 sources into streaming audio
Cincinnati, OH and Oklahoma City, OK (PRWEB) July 1, 2010
Smartphones are rapidly changing how people access news and blogs. According to Pew Research 26% of Americans now read news on mobile devices.
While untethered news has advantages, for commuters, fitness fans and other multitaskers, reading news on tiny screens can be challenging –and when combined with driving, it can have serious safety implications.
While states continue to enact distracted driving laws, mobile startup BuzzVoice has been fast at work adding new features to its streaming audio service that lets consumers listen to over 1,600 of the web's top news and blogs on mobile devices. As Forbes puts it, "BuzzVoice pulls stories off the Internet and reads them aloud."
To date, the magical service, which has been likened to "Pandora for news and blogs," has streamed over 2,000,000 stories to iPhone, iPod touch and iPad users in cars, gyms, trains and other places.
And today, the company announced the launch of BuzzVoice 3.0 – an all-new version for Apple devices, including Apple's new iPhone 4.
BuzzVoice 3.0 has 6 major new features to make getting news on the go a convenient, safe and customizable experience. In addition to being 60% faster, the new product allows users to:
1. Create personalized playlists of their favorite sources with the Playlist Manager
2. Stream stories, while viewing text images & video in the Custom Streaming player
3. Listen to continuous news with the hands-free BuzzRadio & Auto-Stream features
4. Automatically track their favorite topics with Saved Searches
5. Hear what's trending across the web's top sources with Trending Topics
6. Build customized playlists of stories on the fly with Batch Select
>LAUNCH SALE: Get BuzzVoice 3.0 for 50% Off On The App Store
>Watch The Demo: See BuzzVoice 3.0 in Action
About BuzzVoice:
BuzzVoice lets you listen to the web's top news and blogs everywhere. It collects the stories you wish you had time to read and converts them to audio in real time, so you can listen while you get things done.

Listen on-the-go - on your iPhone, iPad, iPod touch, Mac/PC or any MP3 player
Get current & multitask - in the car, gym, home - anytime, anywhere
Express Yourself - share stories, create playlists & more
Media Contact:
John Atkinson, BuzzVoice Co-founder & CEO
Phone: 513.754.0652
>Get BuzzVoice On The App Store
###