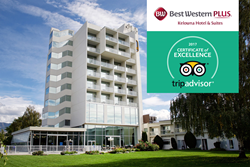 These awards confirm our commitment to providing quality accommodations for our guests
Kelowna, BC (PRWEB) July 28, 2017
The Best Western Plus Kelowna Hotel & Suites has proven once again that it is a leader in the hospitality and accommodation industry. The Kelowna hotel has just been awarded with its seventh TripAdviso r® Certificate of Excellence and has also received the Best Western Hotels and Resorts Director's Award for outstanding quality of standards.
"We are honoured not only to be recognized by our guests, but also by those in our industry. Both awards demonstrate our quality and service is resonating with our customers and within the Best Western brand," says Brenda Rayburn, Director of Sales and Marketing at Best Western Plus Kelowna Hotel & Suites.
The Certificate of Excellence Award is given to properties that consistently achieve outstanding reviews on TripAdvisor in the preceding year. Listed accommodations, as well as restaurants and attractions, must continuously deliver a quality customer experience and receive a rating of at least four out of five.
As for the Director's Award, this accolade is rewarded by Best Western Hotel and Resorts in recognition of Best Western properties that have scored in the top 20 per cent of more than 2,100 North American hotels and resorts in quality assurance scores. Hotels must also meet Best Western's requirements for design and high customer service to qualify for the distinction.
"This award confirms our commitment to providing quality accommodations for our guests," says Rayburn. "Our teams work incredibly hard. This award honours their dedication and commitment to excellence."
About Best Western Kelowna Hotel and Suites:
The Best Western Plus Kelowna Hotel & Suites offers guests a convenient launching pad to all there is to enjoy in the Okanagan. The Best Western's amenities and extras include fibre optic Internet, mineral pool, hot tubs, free hot breakfast buffet, fitness centre, wellness spa, pub, meeting and banquet facilities. With their numerous environmental awards and recognition this Best Western Plus has become one of the most popular green and pet-friendly Kelowna hotels.
For more information, please contact:
Rosemary Paterson, General Manager
Best Western Plus Kelowna Hotel & Suites
250-860-1212
rosemary[at]bwkelowna[dot]com
http://www.bestwesternkelownahotel.com