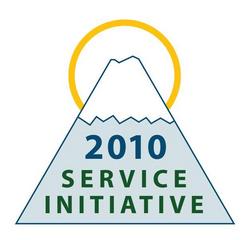 Is your business ready for the 2010 Olympics?
Bellingham, WA (PRWEB) January 16, 2008
Evergreen Team Concepts present the 2010 Service Initiative that asks "Is your business ready for the 2010 Olympics?" Beginning with the Kickoff event on Thursday, February 21, 2008, 12-8pm, the Service Initiative strives to make all businesses ready for the Vancouver/Whistler Winter Olympics. All those interested are welcome to attend this event which includes live music, hors d'oeuvres, hourly presentations, networking and thousands of dollars in door prizes.
In two short years, the world is coming to the Pacific Northwest to attend the Winter Olympics. Businesses in the area stand to reap a windfall. The best prepared companies stand to gain the most. The 2010 Service Initiative is vital to that preparation.
Participants commit to four training workshops each year. In addition, the Service Initiative benefits include:

Quarterly Web forums, facilitated by top national figures
Subscription to the quarterly e-newsletter, focused on Olympic news and events of local business interest
Two free marketing ads each year in the quarterly e-newsletter
Four local press releases each year, coordinated with the 2010 Service Initiative
Three national and international press releases, issued through PRWeb with an explanation of the 2010 Service Initiative
Four audio conferences with national experts
Annual networking luncheons, designed to bring business leaders together
The 2008 events are already scheduled. In March, Henry Beeland will map out "Developing a Plan for Success". June is busy. Frank Keck leads a workshop in "Building Successful Customer Relationships" and on June 4, the networking luncheon, the "HAMFLAP" event, occurs. In the Fall, Evan Glassett presents a workshop in September on "Image Management" and in November, Henrik Rosvall will conclude 2008 with a workshop on "Cultural Diversity and Practices". No business can afford to miss a moment of this valuable experience.
Gold, Silver and Bronze 2010 Service Initiative sponsorships are available for businesses and organizations to step up and receive exciting premiums such as logo recognition at 2010 Service Initiative events, additional press coverage, and multiple admissions to training events. Call Evergreen Team Concepts for more information on sponsorships.
The 2010 Service Initiative will elevate this area's businesses to reach faster, higher and stronger as they prepare for the world in 2010. Register now. If you are in the Service Initiative area - don't let this unique opportunity pass you by.
Contact:
Dave Hiller
Evergreen Team Concepts
(360) 647-6922
dave(at)etcwa.com
###