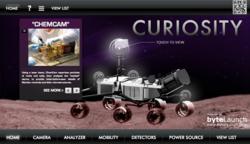 We are thrilled with the design and interactive capabilities of the Curiosity exhibit.
Newport Beach, CA (PRWEB) September 26, 2012
ByteLaunch, an Orange County web design, web development and internet marketing company, has been working with Discovery Science Center in Santa Ana to create their newest permanent display. This new exhibit, sponsored by a grant from NASA, showcases a replica of the JPL NASA Curiosity rover model and gives guests the opportunity to interact with three independent kiosks based around NASA's latest mission to Mars: Curiosity.
For months ByteLaunch has been working on a custom programming system for the new kiosk. ByteLaunch developed an interactive kiosk system that allows for increased user interaction, is scalable for future Mars Curiosity findings, and includes a variety of new, cutting edge features such as HTML5 high definition video presentation. The reveal of this new exhibit coincides with the historic Curiosity rover Mars landing on August 6, 2012.
"We are thrilled with the design and interactive capabilities of the Curiosity exhibit," said Mike Wheeler, Sr. Director, Marketing and Communications for Discovery Science Center. "We pride ourselves on being a hands-on learning facility and this new kiosk provides a unique learning experience with innovative technology."
Although ByteLaunch is known for its internet marketing strategies and website design and development, it initially started out as an IT company, but as technology and the internet evolved, so did ByteLaunch. When the opportunity came up to create a new software program for the Discovery Science Center, everyone at ByteLaunch was excited to explore a new facet in the realm of technology.
"This new partnership with Discovery Science Center has been such a great opportunity for ByteLaunch," said Michael Craig, founder and President at ByteLaunch. "It has helped us grow to become more than just an IT and online marketing company. We're thrilled to have been able to work with them."
For more information on ByteLaunch services, including internet marketing, web design or web development in Orange County, visit http://www.bytelaunch.com or call (949) 274-9878. For more information on the Discovery Science Center, visit http://www.discoverycube.org.
About ByteLaunch
ByteLaunch was founded in 2006 as a software and web development company and has since grown to become a full service web design and internet marketing agency. For over half a decade, ByteLaunch has grown and expanded from focusing solely on web development in Orange County to also offering web marketing services and web design to businesses across the country. The Newport Beach based company specializes in Search Engine Optimization (SEO), Social Media Marketing (SMM) and Pay-Per-Click (PPC) Advertising.
About Discovery Science Center
Imaginations run wild with 120 hands-on exhibits at Discovery Science Center (DSC), Orange County's leading destination for hands-on science entertainment. Take the Eco Challenge and become a green superhero and feel the power of a real rocket engine launch! Plus, the Science Center's signature events don't just foster science education, but also provide entertainment for the whole family. From our annual Bubblefest and Rocket Launch to blockbuster traveling exhibits such as Star Wars™: Where Science Meets Imagination, there is always some new to experience. DSC is a non-profit organization dedicated to educating young minds, assisting teachers and increasing public understanding of science, math and technology through interactive exhibits and programs. It is a community-wide resource where families come together to learn and have fun and school districts can use as an educational resource. For further information, visit http://www.discoverycube.org or call (714) 542-2823.