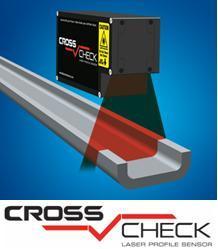 CrossCheckTM pre-calibrated sensors are easy to use and perfect to inspect the geometry of parts or components
Cumming, GA (Vocus) September 17, 2009
Micrometers, Depth Gages, Calipers, and Height Gages are widely used and well accepted to inspect part tolerance for QA (Quality Assurance). State of the art Laser Profile Sensors are also proven and highly accepted. They are used on CMM (Coordinate Measurement Machines) as well as Online & Offline inspection systems to help Six Sigma programs identify and remove errors in the production process. In most cases a single CrossCheckTM Laser Profile Sensor can replace all manual gages while at the same time measure a parts shape-based parameters like thickness, step height, width, angle, radius, location, gap and depth. Eliminating the hand held gages and generating automatic reports for part tolerance, increases throughput and helps automate the process.
A QA department operator can now speed up the inspection process, eliminate sources of human error like reading and data transcription, and conduct several measurement calculations instantly. The fact that the CrossCheckTM Measurement System is non-contact, insures a stable reading every time and in most cases can improve the repeatability and standard deviation by 3 to 4 times that of a manual gage.
"CrossCheckTM pre-calibrated sensors are easy to use and perfect to inspect the geometry of parts or components" says Mike Snow, Product Manager. "The software Shape Tool calipers, are like virtual micrometers that allow an operator to measure complex features like step height, radius and width at the same time with high repeatability and precision".
The entire organization now benefits from the CrossCheckTM high resolution, low cost 3D laser measurement system. R&D, Engineering, Production, Quality and Maintenance personnel use CrossCheckTM to validate product dimensions and tolerances. Metrology & Calibration Service companies can use CrossCheckTM to verify components and parts for all types of industry including automotive, aerospace, rubber, plastics, wood, metal and building materials.
The CrossCheckTM laser sensor is the primary measurement device while the CrossCheck Software provides users with simple to use "shape tools" that act as virtual micrometers. The Shape Tools are used to fit data to a Circle, Rectangle, Vertex, Line, Gap, Bump or Step Change. Shape tools are used to set up tolerances and calculate real-time product dimensions to control thickness, radius, diameter, height, width, angle, gap, depth and location of key features. The Master Profile Comparison tool captures a parts profile to specific break points chosen by the operator and guarantees the shape of a part stays within the actual profile limits. Bytewise has designed the CrossCheckTM product line for a wide variety of factory automation applications including process control, part inspection, robotic guidance, and shape check.
An Ecommerce Online Store is now open for users to purchase CrossCheckTM Laser Profile Sensors. A complete non-contact 3D measurement system includes one or two CrossCheckTM profile sensor(s), controller and software. Users can purchase a starter kit for $7449.00 or build their own system starting at $6990.00. The CrossCheckTM software can set up Pass/Fail trigger alerts and output two analog feedback control loops for direct machine control. Data can be collected and stored to a file while the user can retrieve multiple recipes for product lines that vary in size and dimension. Programmers can utilize raw data X-Y coordinates and Shape Tool tolerances via TELNET over an Ethernet protocol. The product is backed by a 30 Day No Risk Evaluation period and one year manufactures warranty.
About Bytewise Company
Bytewise is a premier supplier of non-contact, profile measurement systems since 1989. Located in Columbus, Georgia, Bytewise specializes in measurement solutions for the tire, extrusion, roll forming, forging, casting, and web process industries.
CrossCheckTM 3D line laser sensors solve everyday measurement problems for scientific and factory applications. To purchase or get more information on the CrossCheckTM Laser Profile Sensor contact Michael Snow at Bytewise 1150 Brookstone Centre Parkway, Columbus GA, 31904. Telephone (678) 807-8400, FAX (706) 323-0178. http://www.BytewiseSensors.com
###