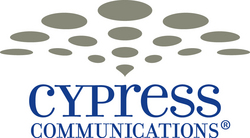 The overall suite of services the Cypress C2 Enhanced solution provides helps us establish a large enterprise-grade of capabilities and presents a professional image to our clients and prospects.
Atlanta, GA (Vocus) March 25, 2010
NRG Vision, an energy consulting and engineering firm, is now connecting and communicating with the C2 Enhanced™ solution from Cypress Communications®. Selected for its ability to provide state-of-the-art functionality while cutting NRG Vision's communications costs in half, C2 Enhanced includes all the indispensable aspects of a digital voice solution plus select VoIP features such as unified messaging and mobility call routing.
As a small and growing firm based out of Atlanta, NRG Vision focuses on energy-efficient project design, development and delivery for industry and commercial clients across the nation. Employees frequently travel to customer locations, making efficient and effective communications key to their success.
"Being a small and growing business that works with large corporations, it's key we aren't perceived as being too small to service our customers' large energy efficiency needs," said Josh Long, principal and owner at NRG Vision. "The overall suite of services the Cypress C2 Enhanced solution provides helps us establish a large enterprise-grade of capabilities and presents a professional image to our clients and prospects. Features like the auto attendant have allowed us to delay hiring a receptionist while not impacting the ease of connecting to our team. Our employees can spend 20-50% of their time out of the office, so the call routing and voicemail-to-email features help them stay connected to our clients. And, we can create multi-person audio conferences without having to purchase a dedicated conference bridge, which helps to keep our costs down."
"Additionally, the solution comes with all the equipment and technology necessary for our phones and Internet, so we have one less administrative item to deal with. As our business continues to grow or our current equipment becomes obsolete, Cypress provides us with next generation technology—all with no additional expense."
The C2 Enhanced solution features unlimited local and domestic long distance calling, 1.0-Mbps business-class Internet access, direct-dial phone number, unified messaging with voicemail and email for every employee, mobility call routing, local number portability, account codes, audio and web conferencing, hunt groups and group call pickup, and all the enterprise-grade PBX functionality users depend on such as call park, call hold, 3-way calling, speed dialing, do not disturb and more.
"For small-to-medium enterprises (SMEs), incremental increases in productivity can have a significant impact on how accessible employees are to clients and how easily they can generate new business," said Frank Grillo, executive vice president of marketing and customer support at Cypress Communications. "With C2 Enhanced, SMEs get essential digital and VoIP features that they can use to increase productivity—all with no capital investment in hardware, no complex deployment and no technical expertise required on the part of the user."
With the unified messaging feature, employees have 24/7 access to their voicemails—an invaluable convenience that makes it easy to stay connected. Users can receive voicemails in their Microsoft® Outlook inboxes; listen to messages via their computers, phones or mobile devices; and forward messages just like any email. Find-me/follow-me call routing enables users to easily create routing schemes to ensure that they never miss an important call. Routes can be set to ring multiple devices simultaneously or sequentially and can be further defined based on incoming number and time of day.
For over 25 years, Cypress has been managing enterprise communications and now offers everything from traditional voice and data services to SIP trunking and advanced hosted VoIP and hosted unified communications solutions in 38 states across the nation. With the new year underway, Cypress will continue to evolve its portfolio of hosted communication offerings to accommodate the ever-changing needs of SMEs.
About NRG Vision
NRG Vision specializes in the development, design, engineering, and implementation of innovative solutions to save energy, reduce operating costs, improve building performance, and help the environment. We have a highly successful track record of developing and implementing energy efficiency and renewable energy projects for commercial, industrial, institutional and government clients around the world. Our staff of professional engineers, certified energy managers, and project managers offers a broad range of experience in energy technologies to assure the greatest financial returns and program results are achieved by our clients. Find out more about NRG Vision on the web at http://www.NRG-Vision.com.
About Cypress Communications
For over 25 years, Cypress Communications has been helping small-to-medium enterprises (SMEs) connect, communicate, collaborate and continue® with a range of fully hosted and managed voice, data and Internet solutions. Beginning in 2006, Cypress revolutionized the communications industry with its hosted VoIP and hosted unified communications solution, C4 IP®, making it easy for SMEs to take advantage of productivity-enhancing technology such as integrated audio and web conferencing, multimedia collaboration tools, presence, chat, Microsoft® Outlook integration, and more. As a Deloitte Fast 50 and Fast 500 award recipient, Cypress is recognized as one of the fastest growing telecommunication companies in North America. In 2008, the company was also named one of Atlanta's Best Places to Work. Cypress has won a total of 24 awards for excellence and product innovation to date. The company's web address is http://www.cypresscom.net .
For more information, contact:
Heather Whitt Roberts
Cypress Communications
404-442-0034
© 2006-2010 Cypress Communications, Inc. The Cypress Communications logo is a registered service mark of Cypress Communications, Inc. C4 IP and Connect. Communicate. Collaborate and Continue are registered trademarks of Cypress Communications. C2 Enhanced is a trademark of Cypress Communications. All other marks used herein are the property of their respective owners.
###