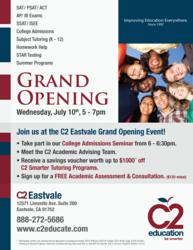 Eastvale, CA (PRWEB) June 25, 2013
C2 Education, the nation's fastest growing network of tutoring and test preparation centers, will celebrate the Grand Opening of their newest location in Eastvale, CA on Wednesday, July 10, 2013. The new learning center, located at 12571 Limonite Avenue in the Eastvale Gateway shopping center, will provide local students with access to unique academic opportunities, including test preparation, college admissions counseling, schoolwork help, and academic enrichment.
C2 Education's new Eastvale center is currently accepting new students. As a special offer for local families, the new learning center will provide free practice SAT exams to interested students each Saturday between 9:30 am and 4 pm from now until the July 10 Grand Opening.
Grand Opening events will be held on Wednesday, July 10, 2013 from 5 pm until 7 pm, and will feature a ribbon cutting ceremony with Mayor Ike Bootsma at 5:45 pm. At 6 pm, expert tutor and PhD candidate Conrad Pruitt will host a free informational seminar to help students with essay writing and reading passage analysis. All families in attendance will receive a savings voucher for up to $1,000 off services at the new learning center.
The new C2 Education center will offer local students access to C2's full range of academic programs, including K-12 subject tutoring, SAT preparation, ACT preparation, and college admissions counseling. With local students beginning their lengthy summer vacations, this new center provides a unique opportunity for summer learning to help students remain sharp and motivated for the upcoming school year.
"Summer presents a challenge for educators and students alike," says C2 Education co-founder and CEO David Kim. "Students often lose months of grade level equivalency in reading and math during the summer months, leaving teachers struggling to help students catch up at the beginning of each school year. We encourage students to participate in academic programs during the summer in order to keep their minds active and to prevent summer learning loss."
ABOUT C2 EDUCATION
C2 Education was founded as an in-home tutoring service run out of a Harvard dorm room in 1997. From those humble beginnings, C2 has grown to include more than 120 tutoring centers across the country serving thousands of students each week. C2 students enjoy fully customized programs, one-on-one interaction with highly qualified teachers, and the support needed to succeed throughout their educational careers. C2's results speak for themselves: C2 students increase their SAT scores by an average of 362 points, 100% of C2 students pass state standardized tests, and 85% of C2 students go on to attend a top 50 college or university. For more information about C2 Education, please visit http://www.c2educate.com or call 800-777-7000.