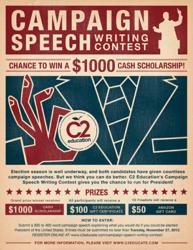 We found it amazing that so many students, many as young as 7th grade, had such a deep understanding of their world.
Atlanta, GA (PRWEB) February 18, 2013
Inspired by the 2012 Presidential election, C2 Education asked the nation's middle and high school students to submit self-written campaign speeches explaining what they would do if they could be elected President of the United States of America. A panel of judges selected the top ten finalists, and the public voted online to determine the winner. Today, C2 Education announced that the winner of the $1,000 cash scholarship grand prize is Joelle Kruger, a 12th grade student from Iowa. In second place is 8th grader Joshua Yen from California.
One of the judges, Ms. Ashley Zahn, C2 Education's primary blog author, noted that "the entries we received were astounding in large part because they provided such a unique glimpse into the world views of today's young people." Ms. Zahn reported that the hundreds of entries contained a handful of common issues, including jobs for recent college graduates, improving education, aiding the economy, and addressing partisanship and gridlock in Washington. "We found it amazing that so many students, many as young as 7th grade, had such a deep understanding of their world. It's great to see the next generation taking an interest," Ms. Zahn said.
The winning entry received nearly 1,000 votes. Ms. Kruger's grasp of rhetorical devices and persuasive argumentation helped to set her at the top of the heap. The second place entry came close with nearly 750 votes. Mr. Yen's entry was notable not only because was on par with the work of a much older student, but also because of its analysis of our current political atmosphere. The entries of all of the top ten finalists can be read online on C2 Education's website.
C2 Education has plans to hold additional writing contests this year, but has not yet announced any details.
ABOUT C2 EDUCATION
C2 Education was founded as an in-home tutoring service run out of a Harvard dorm room in 1997. From those humble beginnings, C2 has grown to include more than 120 tutoring centers across the country serving thousands of students each week. C2 students enjoy fully customized programs, one-on-one interaction with highly qualified teachers, and the support needed to succeed throughout their educational careers. C2's results speak for themselves: C2 students increase their SAT scores by an average of 350 points, 100% of C2 students pass state standardized tests, and 85% of C2 students go on to attend a top 50 college or university. For more information about C2 Education, please visit http://www.c2educate.com or call (800) 777 - 7000.