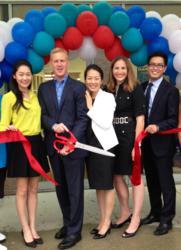 New York, NY (PRWEB) June 24, 2013
C2 Education, the nation's fastest growing network of educational support providers, celebrated the official Grand Opening of their newest learning center on June 18, 2013. The new center, located in the Commack Towers shopping plaza at 6300 Jericho Turnpike, is currently accepting new students for a variety of academic programs, including SAT preparation, ACT preparation, K-12 subject tutoring, and college admissions counseling.
Grand Opening events included a ribbon cutting ceremony presided over by C2 Education's COO Jamie Davidson. "We are thrilled to be joining the Commack community," Mr. Davidson said. "The residents of this town are incredibly invested in quality education, something we are very passionate about. We strive to provide local students with the support and guidance they need to meet their high academic goals, and we hope to continue our record of success here in Commack."
Several students and parents took advantage of a free college admissions seminar hosted by C2 Education's Director of Digital Learning, Benjamin Yun. This unique opportunity to have a candid discussion about college admissions processes is just one of C2 Education's initiatives to help guide students and parents through what is often an opaque process. The company also hosts monthly online webinars for interested students, in addition to community events held across the country throughout the year.
ABOUT C2 EDUCATION
C2 Education was founded as an in-home tutoring service run out of a Harvard dorm room in 1997. From those humble beginnings, C2 has grown to include more than 120 tutoring centers across the country serving thousands of students each week. C2 students enjoy fully customized programs, one-on-one interaction with highly qualified teachers, and the support needed to succeed throughout their educational careers. C2's results speak for themselves: C2 students increase their SAT scores by an average of 362 points, 100% of C2 students pass state standardized tests, and 85% of C2 students go on to attend a top 50 college or university. For more information about C2 Education, please visit http://www.c2educate.com or call 800-777-7000.