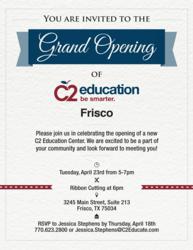 Dallas, TX (PRWEB) April 09, 2013
On Tuesday, April 23, 2013, C2 Education, the nation's fastest growing network of education support centers, will celebrate the Grand Opening of a new location in Frisco, Texas, roughly thirty miles north of Dallas. The new location is one of several in the Dallas area, and C2 Education will continue to grow nationwide in the coming year.
The new Frisco center, located at 3245 Main Street in the Kroger Signature Main Street Village, will provide local students with access to C2's uniquely personalized academic programs, including SAT preparation, ACT preparation, K through 12 subject tutoring, and academic and college admissions counseling.
"As the college admissions race grows increasingly competitive, students need more and more help to maximize their potential in order to compete," says C2 Education CEO David Kim. "At C2, we've created a very successful program, and our students' widespread success is what has led to our amazing growth in recent years."
Grand Opening events for the new Frisco location will be held from 5 to 7 p.m. on Tuesday, April 23, 2013. Frisco Mayor Maher Maso will be on hand for a ribbon cutting ceremony at 6 p.m. to herald the opening of the new center. All attendees will have the chance to meet with C2 Education's academic advising team, tour the new facilities, and enjoy free food and drink. All families in attendance will also receive a savings voucher for $1,000 off services at the new location.
"We look forward to becoming an active member of the Frisco community, and we hope that local families will consider our services as they seek to broaden their children's educational opportunities," Mr. Kim says.
ABOUT C2 EDUCATION
Founded as an in-home tutoring service run out of a Harvard dorm room in 1997, C2 Education has evolved into a vast network of tutoring centers providing test preparation and academic support for students in grades K through 12. With more than 120 tutoring centers nationwide, C2 Education serves thousands of students each week. C2 students enjoy fully customized programs, one-on-one interaction with highly qualified teachers, and the support needed to succeed throughout their educational careers. C2's results speak volumes: C2 students increase their SAT scores by an average of 362 points, 100% of C2 students pass state standardized exams, and 85% of C2 students go on to attend a top 50 college or university. For more information about C2 Education, please visit c2educate.com or call (888) 777 – 3889.