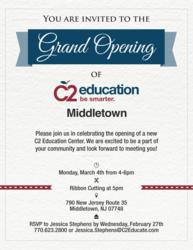 Middletown, NJ (PRWEB) February 19, 2013
C2 Education, an elite test prep and subject tutoring provider, has experienced unprecedented growth in the past year with more than two dozen new locations opened nationwide. On Monday, March 4, 2013, C2 Education will celebrate the Grand Opening of a new center in Middletown, New Jersey.
The new center, located at 790 New Jersey Route 35 in Middletown, will provide local students with access to a wide range of academic services, including SAT preparation, ACT preparation, subject tutoring, and college admissions counseling.
The timing of the Grand Opening coincides perfectly with the academic calendar since the month of March is an ideal time to begin preparation for a wide range of upcoming tests including final exams, Advanced Placement exams, ACT or SAT tests, and SAT Subject Tests. "This time of year is very important for students of all ages, but particularly for college bound high school students," says C2 Education founder and CEO David Kim. "We're always thrilled to be able to bring our services to a new location, but we're especially happy to be doing so at such an important time in the school year. We hope local students will benefit from the help and support that we offer."
Grand Opening events will be held from 4 to 6 PM. Middletown Mayor Gerard P. Scharfenberger will be on hand for a ribbon cutting ceremony at 5 PM. Attendees will have the opportunity to meet with C2 Education's expert team of academic advisers and tour the new facilities. Each family in attendance will also receive a savings voucher for $1,000 off of C2 Education services at the new location.
ABOUT C2 EDUCATION
C2 Education was founded as an in-home tutoring service run out of a Harvard dorm room in 1997. From those humble beginnings, C2 has grown to include more than 120 tutoring centers across the country serving thousands of students each week. C2 students enjoy fully customized programs, one-on-one interaction with highly qualified teachers, and the support needed to succeed throughout their educational careers. C2's results speak for themselves: C2 students increase their SAT scores by an average of 362 points, 100% of C2 students pass state standardized tests, and 85% of C2 students go on to attend a top 50 college or university. For more information about C2 Education, please visit http://www.c2educate.com or call (800) 777 - 7000.