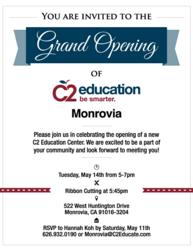 Los Angeles, CA (PRWEB) April 30, 2013
On Tuesday, May 14, 2013, C2 Education will celebrate the Grand Opening of their newest learning center, located at 522 West Huntington Drive in Monrovia near the Huntington Oaks Shopping Center. The new location is one of several C2 Education learning centers to open in California this year, and one of more than 15 C2 Education centers in Southern California alone.
The new Monrovia learning center will provide local students with access to C2 Education's full range of personalized academic programs, including SAT preparation, ACT preparation, K through 12 subject tutoring, and academic and college admissions counseling. C2 Education co-founder and CEO David Kim says that such services are in higher demand than ever before, thanks largely to an increasingly competitive college admissions process and widespread concern about whether or not public schools are adequately preparing students for college.
Grand Opening events for the new Monrovia location will be held from 5 to 7 pm on Tuesday, May 14, 2013. Mayor Mary Ann Lutz will be available for a ribbon cutting ceremony at 5:45 pm to welcome C2 Education to Monrovia. Local students and families are encouraged to attend for the opportunity to meet with C2 Education's team of expert academic advisers, to tour the new facilities, and to enjoy free food and drink. All attendees will also receive a savings voucher redeemable for $1,000 off services at the new Monrovia center.
ABOUT C2 EDUCATION
Founded as an in-home tutoring service run out of a Harvard dorm room in 1997, C2 Education has evolved into a vast network of learning centers providing test preparation and academic support for students in grades K through 12. With more than 120 tutoring centers nationwide, C2 Education serves thousands of students each week. C2 students enjoy fully customized programs, one-on-one interaction with highly qualified teachers, and the support needed to succeed throughout their educational careers. C2's results speak volumes: C2 students increase their SAT scores by an average of 362 points, 100% of C2 students pass state standardized exams, and 85% of C2 students go on to attend a top 50 college or university. For more information about C2 Education, please visit http://www.c2educate.com or call (888) 777 – 3889.