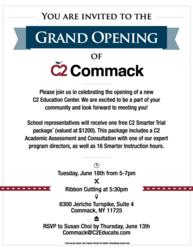 We encourage students to participate in academic programs during the summer in order to keep their minds active and to prevent summer learning loss.
(PRWEB) June 05, 2013
C2 Education, the nation's fastest growing network of education support providers, is opening a new learning center in Commack, New York, just in time for students' summer vacation. The new center, located at 6300 Jericho Turnpike just west of Sunken Meadow Parkway, will celebrate its Grand Opening on Tuesday, June 18, 2013 from 5 PM until 7 PM.
The town of Commack places a strong emphasis on quality education with Commack High School having been rated as the best high school in Suffolk County in 2012. C2 Education's wide range of fully customized programs for K-12 students complements this focus on academics, providing support for struggling students and challenging programs for more advanced students.
The new C2 Education center will offer local students access to C2's full range of academic services, including K-12 subject tutoring, SAT preparation, ACT preparation, and college admissions counseling. With summer vacation just around the corner, C2 Education provides an excellent means of keeping students engaged throughout the lengthy break from school. "Summer presents a challenge for educators and students alike," says C2 Education co-founder and CEO David Kim. "Students often lose months of grade level equivalency in reading and math during the summer months, leaving teachers struggling to help students catch up at the beginning of each school year. We encourage students to participate in academic programs during the summer in order to keep their minds active and to prevent summer learning loss."
The Grand Opening events for C2's Commack center offer a chance for local families to learn about C2 Education's programs and offerings. C2 Education's Chief Operating Officer Jamie Davidson will cut the ceremonial ribbon to herald the opening of the new location. At 6 PM, one of C2 Education's most experienced academic advisors will host a free college admissions seminar open to all students and parents. Families in attendance will also have the opportunity to tour the new facilities and to meet with C2 Education's academic advising team while enjoying free food and drink. In gratitude to supportive members of the local community, C2 Education will also provide families who attend the Grand Opening with a savings voucher for up to $1,000 off services at the new Commack location.
ABOUT C2 EDUCATION
C2 Education was founded as an in-home tutoring service run out of a Harvard dorm room in 1997. From those humble beginnings, C2 has grown to include more than 120 tutoring centers across the country serving thousands of students each week. C2 students enjoy fully customized programs, one-on-one interaction with highly qualified teachers, and the support needed to succeed throughout their educational careers. C2's results speak for themselves: C2 students increase their SAT scores by an average of 362 points, 100% of C2 students pass state standardized tests, and 85% of C2 students go on to attend a top 50 college or university. For more information about C2 Education, please visit http://www.c2educate.com or call 800-777-7000.