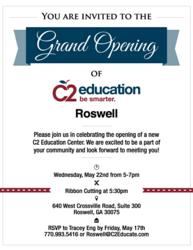 It is our wish to provide Georgia students with better educational opportunities, with the chance to get and stay ahead of students nationwide.
Atlanta, GA (PRWEB) May 08, 2013
C2 Education, the nation's fastest growing network of educational support centers, is well known within the state of Georgia, which is home to the company's corporate headquarters. The company will be expanding its operations in Georgia with the Grand Opening of a new learning center in Roswell. The addition of the new location will bring the total number of C2 Education learning centers in Georgia to more than a dozen, reflecting the rapid growth of the company in recent months.
"We carefully oversee every one of our centers, but our Georgia centers have a special standing for us because they are so close to our company headquarters," says C2 Education co-founder and CEO, David Kim. "Many of our employees live and work in this state, and are incredibly invested in the educational outcomes of Georgia's students. This is, after all, a state in which 75% of 8th graders can't read at grade level, a state that ranks near the bottom in SAT scores year after year. It is our wish to provide Georgia students with better educational opportunities, with the chance to get and stay ahead of students nationwide."
The new Roswell tutoring center, located at 640 West Crossville Road in the Stonebridge Square Shopping Center, will provide local students with access to C2 Education's full range of customized academic programs, including SAT preparation, ACT preparation, and academic tutoring. Grand Opening events will be held on Wednesday, May 22 from 5 to 7 PM, and will feature a ribbon cutting ceremony with Mayor Jere Wood at 5:45 PM. Those in attendance will have the opportunity to engage in a candid discussion about the college admissions process during an informational seminar hosted by one of C2 Education's most knowledgeable college admissions counselors. Attendees will also have the chance to tour the new facilities and meet with C2 Education's expert team of academic advisers while enjoying free food and drink. All families who attend the festivities will receive a savings voucher for up to $1,000 off services at the new location.
ABOUT C2 EDUCATION
Founded as a tutoring service run out of a Harvard dorm room in 1997, C2 Education has evolved into a vast network of learning centers providing test preparation and academic support for students in grades K through 12. With more than 120 tutoring centers nationwide, C2 Education serves thousands of students each week. C2 students enjoy fully customized programs, one-on-one interaction with highly qualified teachers, and the support needed to succeed throughout their educational careers. C2's results speak volumes: C2 students increase their SAT scores by an average of 362 points, 100% of C2 students pass state standardized exams, and 85% of C2 students go on to attend a top 50 college or university. For more information about C2 Education, please visit http://www.c2educate.com or call (888) 777 – 3889.