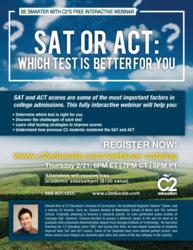 I loved being able to ask all of my college admissions questions and get immediate answers from experts!
Atlanta, Ga. (PRWEB) February 12, 2013
On Thursday, February 21, C2 Education will host the latest in its series of interactive webinars, "SAT or ACT: Which Test Is Best for You?" SAT and ACT scores are some of the most important factors in college admissions, but many students are uncertain as to which test they should take. This fully interactive webinar will help students and their parents:

Determine which test is best for each student and how best to prepare for that test
Discover the challenges of each test and the vital testing strategies that can help improve scores
Understand how thousands of C2 students have mastered the SAT and ACT
Past C2 Education webinars,which are now available for viewing on demand, have met with great success. One parent commented, "I loved being able to ask all of my college admissions questions and get immediate answers from experts!" Other participants have enjoyed the depth of information provided by the presenters and the interactive nature of the webinars.
February's webinar will be held on Thursday, February 21 at 8 PM Eastern Standard Time. Participation is free, but registration is required. After the webinar, participants will receive a coupon for a free Academic Assessment and Consultation, a $120 value.
About C2 Education
C2 Education was founded as an in-home tutoring service run out of a Harvard dorm room in 1997. From those humble beginnings, C2 has grown to include more than 120 tutoring centers across the country serving thousands of students each week. C2 students enjoy fully customized programs, one-on-one interaction with highly qualified teachers, and the support needed to succeed throughout their educational careers. C2's results speak for themselves: C2 students increase their SAT scores by an average of 350 points, 100% of C2 students pass state standardized tests, and 85% of C2 students go on to attend a top 50 college or university. For more information about C2 Education, please visit http://www.c2educate.com or call (800) 777 - 7000.