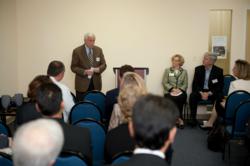 "Connections for Hope is a true example of the community coming together to help those in need." Congressman Frank R. Wolf, 10th District of Virginia
Herndon, VA (PRWEB) January 19, 2012
Congressman Frank Wolf (R. VA) hosted a breakfast at Connections for Hope at the end of October 2011, which raised more than $100,000 to help area's neediest. More than 25 businesses were represented, and many local elected representatives were in attendance. All guests enjoyed breakfast, a tour of Connections for Hope, remarks from Todd Stottlemyer, CEO of Acentia; Sarah Newman, Director of Connections for Hope; and Congressman Frank Wolf (R. VA.). At the breakfast a $50,000 donation was announced and a challenge was made to raise $50,000 to match this donation by the end of 2011. The response was overwhelming! Not only was the match met but it was exceeded by $5,000. Thank you to all who supported Connections for Hope. The funding will be used to help build a stronger community through the collaboration of services at Connections for Hope.
Connections for Hope is a true example of the community coming together to help those in need. It is a center of excellence and a model other organizations should look to provide greater efficiency and effectiveness for services to the community. - Congressman Frank R. Wolf, 10th District of Virginia
Connections for Hope is expanding its services to individuals to prepare for jobs, search for jobs and find jobs. The Job Readiness Training at Connections for Hope provides bi-weekly classes providing one-on-one job readiness guidance. In addition Connections for Hope provides Job Search Workshops and hosts Job Fairs for the community. In partnership with trained Human Resource professionals and services with Fairfax County, Connections for Hope is able to provide vital services to the community at a time when so many people are searching for employment.
Connections for Hope was established in 2010 to serve the underserved and bring the community together. In just one year, it has served 2500 of its neighbors. It is a partnership of community service organizations - Fairfax Falls Church (County) Community Services Board, Helping Children Worldwide, Jeanie Schmidt Free Clinic, Just Neighbors, Literacy Council of Northern Virginia, Reston Interfaith, and Vecinos Unidos /Neighbors United - addressing the needs of our low-income neighbors, fostering self-sufficiency, good health, education, safety and full participation in community life. The six non-profit agencies and the one county agency housed in Connections for Hope work collaboratively and services include homeless and foreclosure prevention, health care and mental health care, ESOL, legal, and after school homework assistance in addition to financial management counseling and employment services.
Connections for Hope was founded by a dedicated group of individuals at Floris United Methodist Church in Herndon, VA. Connections for Hope is a program of Helping Children Worldwide. For additional information about Connections for Hope visit http://www.connectionsforhope.org or contact Sarah Newman at sarahnewman(at)helpingchildrenworldwide(dot)org or 703-956-6722.
# # #