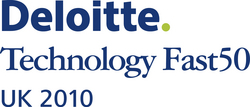 Achieving sustained revenue growth of 823% over five years is a tremendous accomplishment during challenging times for the technology sector
(Vocus) November 17, 2010
Leading UK colocation provider C4L have announced that they ranked 39th in the 2010 Deloitte Technology Fast 50, a ranking of the 50 fastest growing technology companies in the UK. Rankings are based on percentage revenue growth over five years, with C4L growing by 823% during this period.
C4L's Managing Director, Matt Hawkins commented, "We're extremely pleased to have been ranked 39th overall, maintaining our position within the industry as a leading colocation provider. Being ranked the fastest growing technology company in the South West and Wales region is particularly gratifying. These are both the result of considerable investment over the last year in developing new technologies to ensure we remain at the forefront of our industry ".
"Achieving sustained revenue growth of 823% over five years is a tremendous accomplishment during challenging times for the technology sector," said Laurence Hedditch, Deloitte Technology partner for the South West. "C4L's exceptional growth puts it in select company".
C4L attributes its 823% revenue growth to the continuing expansion of their data centre network as well as their ongoing commitment to research and development of new services for their customers. C4L's data centre network now consists of over 35 data centres providing their customers with unparalleled choice when considering their preferred IT infrastructure location. Over the course of the year C4L have also launched their Wireless Internet service, which seeks to provide broadband "notspots" with a fast and reliable internet connection.
Laurence continues, "The Deloitte Technology Fast 50 gives great profile to technology companies and is internationally recognised as being one of the most important business awards in the sector".
C4L's data centre network features over 35 data centres across the UK, and in Amsterdam. The facilities available include; Slough, BlueSquare Maidenhead, BlueSquare Milton Keynes, Telehouse Metro, Telehouse North, Telehouse East, City Lifeline, InterXion, Telecity Meridian Gate, Harbour Exchange 2, Telecity Harbour Exchange 6&7, Telecity Harbour Exchange 8&9, Greenwich, IP House, Park Royal, Node 4 Derby, Node 4 Wakefield, Byfleet, Open Hosting Manchester, UK Grid Manchester, IFL Manchester, Iomart, Level 3 Goswell Road, Global Switch 1, Global Switch 2, Telecity Kilburn House, Telecity Williams House, Telecity Bonnington House, EasyNet, TATA Stratford, Telecity 2 Amsterdam, Telecity Soverign House, Birmingham UK Solutions, Isle of Man Netcetera, Evoswitch Amsterdam, Bournemouth.
About C4L
C4L is an Internet Infrastructure provider and deploys a full range of services in over 35 data centres including colocation, IP Transit, Interconnects, Data Backup, Data Storage, Virtualisation, Disaster Recovery and Leased Lines, to name just a few. These are all provided with C4L's commitment to maximum uptime and customer support featuring a 24/7 NOC which is manned by trained professionals with Microsoft and Cisco qualifications.
C4L is now in its 11th trading year and with a track record of 100% growth every year its client base includes Government, FTSE 250, financial institutions and many of the UK's network carriers. The business is committed to customer satisfaction and quality of service and has achieved certifications such as ISO9001 & 27001.
For more information on these services, or information for the Bournemouth data centre call +44 (0)8000 470 481, visit http://www.C4L.co.uk or for partner information visit http://www.C4Lpartners.co.uk.
About Deloitte:
In this press release references to Deloitte are references to Deloitte LLP, which is among the country's leading professional services firms.
Deloitte LLP is the United Kingdom member firm of Deloitte Touche Tohmatsu ('DTT'), a Swiss Verein, whose member firms are legally separate and independent entities. Please see http://www.deloitte.co.uk/about for a detailed description of the legal structure of DTT and its member firms.
The information contained in this press release is correct at the time of going to press.
For more information, please visit http://www.deloitte.co.uk
###