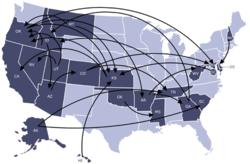 Los Angeles, CA (PRWEB) December 06, 2012
California's foremost residential moving company, CA Moving Companies, has just added new trailers to its expanding fleet. The trailers are enormous, over 50 feet, and allow CA Moving Companies to handle more items, and more moves at one time. The improved efficiency and availability of their services has also allowed the company to make more California moves than ever before, propelling them to the forefront of the local moving market. CA Moving Companies is rapidly becoming the leader in local moving, and remains committed to becoming the nation's premier moving company. They serve all of California's moving needs.
CA Moving Companies is a full-service, residential and commercial mover, and they have the ability to move people across town, across the United States, or even across the globe, while their specialty is California moves. They provide comprehensive assistance throughout each relocation, even guiding customers through the planning and packing process. Each of their movers is a company man, who has received in-depth training on how to pack and move all types of items, including fragile and valuable pieces like artwork, pool tables, and pianos. Their fleet of trucks continues to expand, and includes only top-flight, reliable trucks equipped with GPS, and the company uses only the industries best packing materials. For those in need of storage, they have a secure storage facility that features 24 hour video surveillance and a state-of-the-art climate-control system that keeps belongings in pristine condition.
CA Moving Companies is dedicated to providing quality moving services that meet and exceed the demands of the evolving California moving market. The addition of new trailers is just part of their ongoing expansion, as the company continues its pursuit of excellence. They believe in providing a quality service, at affordable rates, especially for California moves. When looking to make a move anywhere in California, check out their website for a free quote, http://www.camovingcompanies.com, or call (818) 937-1078.