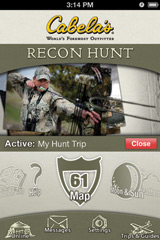 "Recon Hunt answers many of the unique demands and navigation needs hunters face in the field," said Rich Rudow, general manager for Trimble Outdoors.
Sidney, NE (Vocus/PRWEB) March 09, 2011
Cabela's Incorporated and Trimble announced today the release of the first mobile navigation application specifically designed for hunters. Developed by Trimble Outdoors, the Cabela's Recon Hunt app runs on iPhone and Android devices and provides hunters with a full lineup of outdoor and navigation features, including detailed topographical maps, point-to-point GPS navigation, a digital compass and weather forecasts.
"Cabela's Recon Hunt is the real deal," said Tom Rosdail, Cabela's vice president of marketing and licensing. "It's an impressive combination of Trimble Outdoors' expertise as a leader in GPS technology for phone apps and five decades of Cabela's experience as the World's Foremost Outfitter of hunting, fishing and outdoor gear."
Rosdail said the app went through extensive field testing with some of Cabela's most active hunters.
The Recon Hunt app uses the GPS built into iPhones and Android-compatible devices, so no data or phone signal is needed for users to log their locations. Hunters can collect waypoints, tracks, photos, videos and audio clips in the field. The app tracks other essential hunting information too: weather, sun/moon phases, trip stats and ballistics data. Users also can view recommended gear lists and access the cabelas.com online store right from their phones.
"Recon Hunt answers many of the unique demands and navigation needs hunters face in the field," said Rich Rudow, general manager for Trimble Outdoors. "It's been a pleasure to closely work with Cabela's to create such a useful app tailored for hunting."
The Cabela's Recon Hunt app is available now for $3.99 from the App Store on iPhone or at http://www.itunes.com/appstore. The app also is available for $3.99 from the Android Marketplace on Android-compatible phones or at http://www.android.com/market.
Learn more about the Recon Hunt app at: http://www.cabelas.com/recon.
About Trimble Outdoors
Trimble Outdoors™ is a family of GPS-on-cellular applications for consumers. With Trimble Outdoors, consumers can use their GPS-enabled cell phones to navigate trails and highways, track workout performance, geocache, and create, manage and share those experiences with others. By leveraging Trimble's 30 years of commercial expertise in GPS, software, and communications, Trimble Outdoors delivers cost-effective and convenient position-based services that promote consumers' well-being, security and active lifestyles. For more information about Trimble Outdoors, visit http://www.TrimbleOutdoors.com.
About Trimble
Trimble applies technology to make field and mobile workers in businesses and government significantly more productive. Solutions are focused on applications requiring position or location—including surveying, construction, agriculture, fleet and asset management, public safety and mapping. In addition to utilizing positioning technologies, such as GPS, lasers and optics, Trimble solutions may include software content specific to the needs of the user. Wireless technologies are utilized to deliver the solution to the user and to ensure a tight coupling of the field and the back office. Founded in 1978, Trimble is headquartered in Sunnyvale, Calif. For more information, visit: http://www.trimble.com.
About Cabela's Incorporated
Cabela's Incorporated, headquartered in Sidney, Neb., is a leading specialty retailer, and the world's largest direct marketer, of hunting, fishing, camping and related outdoor merchandise. Since the company's founding in 1961, Cabela's® has grown to become one of the most well-known outdoor recreation brands in the world, and has long been recognized as the World's Foremost Outfitter®. Through Cabela's growing number of retail stores and its well-established direct business, it offers a wide and distinctive selection of high-quality outdoor products at competitive prices while providing superior customer service. Cabela's also issues the Cabela's CLUB® Visa credit card, which serves as its primary customer loyalty rewards program. Cabela's stock is traded on the New York Stock Exchange under the symbol "CAB".
###