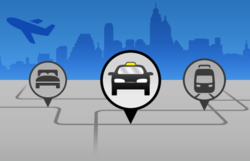 The travel industry has been missing out on a huge opportunity from not being able to offer taxis as part of door-to-door travel services. Cabforce's Partner Program is the first to consolidate European taxis for Travel Industry partners.
Phoenix, AZ (PRWEB) November 13, 2012
Today at the PhoCusWright Conference Cabforce has announced their Partner Program, allowing travel industry players to add taxis – the missing link of the travel industry – to their service portfolio creating an unrivaled door-to-door travel experience. Through the Cabforce's Partner Program, partners such as airlines and travel agencies can boost ancillary revenues by reselling pre-priced and pre-booked taxis from Cabforce's rapidly growing European network. 
Cabforce's integration with partners is designed for flexibility and can plug into any point of the sale. Through Cabforce's Taxi API, customers can search and select taxis within existing booking flows and purchase the ride along with the main product. Cabforce's tech team helps partners with integration and provides example resources to speed up the development.
Alternatively, industry partners can lead customers to Cabforce's booking engine. The engine can be branded with partner graphics and is optimized to work with desktops, tablets, and smartphones. Partners can also securely pass relevant itinerary and passenger information to book a ride, reducing friction for customers. 
Cabforce has opened the Partner Program to new travel industry partners after the success of its current partnerships, which include Finnair, Estonian Air, CWT Kaleva Travel, Finland Travel Bureau (American Express Business Travel representative), Area (GlobalStar) and Travellink.
This week Cabforce is coming to millions of more touchpoints as they announce partnerships with UK train operator First Great Western to provide door-to-door services for train passengers, a partnership with Travelport to bring Cabforce rides available to Universal Desktop, and with mTrotter to reach out to travelers on mobile devices. 
"The travel industry has been missing out on a huge opportunity from not being able to offer taxis as part of door-to-door bookings. Now our technology, 24/7 operations, and network of quality suppliers in Europe are available as unique content for distribution within the travel industry. Our partners can now happily promote taxis to their customers along with flights, hotels and rental cars," says Andreas Hansson, CEO of Cabforce.
Travelers have become accustomed to booking flights, hotels, and vacation packages online, but providing true door-to-door service has been previously impossible in Europe due to the fragmented taxi offering. Cabforce consolidates the market by partnering with certified local fleets and providing a unified ride experience with 24/7 customer service in all their destinations. The company makes safe and reliable pre-booking possible because it has a technology platform unlike any other in the industry – its real time pricing platform determines the all-inclusive rate for any trip at the time of booking.
About Cabforce (http://www.cabforce.com)
Established in 2009 in Espoo, Finland, Cabforce's founders were fed up with unpredictable, unreliable taxi journeys while abroad and set about creating a network of certified cab providers with a flat-rate, upfront cost – minimizing bill shock and reliability concerns. The service is available on the web, via a free iPhone app, and for partners through a newly launched Partner Program. Travelers can pre-book their taxis, pre-paying a fee that includes all taxes tolls and charges, online and in English. So customers can sit back and enjoy their trip; confident in the knowledge that their taxi will be there when they need it, and has been fully paid for in advance.
Book now at http://www.cabforce.com, or download the app for free from Apple iTunes©.