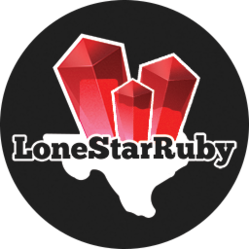 With great power comes great responsibility - and an awesome new logo.
Austin, TX (PRWEB) December 12, 2012
The LoneStarRuby Foundation has announced the appointment of Lance Vaughn to the position of Foundation President. LoneStarRuby is a non-profit whose sole mission is to foster and facilitate sharing and learning among the Texas Ruby community.
Vaughn has an extensive business and technical background, including over two decades of technology consulting experience in senior positions with global software and consulting firms. He is Founder & CEO of CabForward, an Austin-based Ruby on Rails and iOS Software Development Company. The Ruby language and rugged software design are his passion, and as a major sponsor of the Foundation, CabForward will be donating 1% of profits annually to LoneStarRuby.
"As web development professionals," Vaughn states, "we recognize that there is a serious shortage of Ruby developers, and with Ruby on Rails expertise in such high demand, we are working furiously to build a scholarship program for underserved communities to increase the pool of skilled Ruby developers. Over the next several months as LoneStarRuby refines its educational and sponsorship programs, we hope to facilitate a process of discovery around what specifically we can do to best serve the Ruby community in Texas."
Foundation founder, Jim Freeze, who is stepping down to pursue other interests, says "Lance has big plans. He has the pulse of the community and has already done much for the Foundation. I believe that Lance and his team can grow the influence of the Foundation and will be able to keep the annual Conference fresh and vibrant into the future." Freeze organized the first six annual LoneStarRuby Conferences through 2012.
CabForward builds and deploys rugged web, mobile and social applications using the latest proven technologies such as Ruby on Rails and iOS. Their team has grown to over twenty-five software development professionals in 2012, all based in Austin, TX. CabForward is a thought leader in customer-driven product development and rugged application design. CabForward donates 1% of its profits to the LoneStarRuby Foundation and can be found at https://www.cabforward.com.
To stay up to date on LoneStarRuby and the activities of LoneStarRuby Conference 2013, sign up for our newsletter at http://www.lonestarruby.org or catch us on Twitter at @LoneStarRuby.