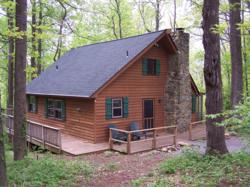 Knowing why you want to rent a cabin will help in choosing one that fits your needs.
Waynesboro, VA (PRWEB) June 29, 2011
Renting a vacation cabin can be a wonderful experience or a frustrating nightmare. A little planning can go a long way toward ensuring that the getaway you choose is all that you had dreamed it would be.
Tip #1 - Decide on the Reason for this Getaway
The reasons folks choose to rent a vacation cabin are wide and varied. Knowing why you want to rent a cabin will help in choosing one that fits your needs. Are you looking to spend most of your time relaxing with a book? Is this to be a base for exploration? Do you need a quiet place to study or write? Are you looking for a romantic getaway? Is this a family vacation? Determining the reason for your getaway will help you to narrow down your options.
Tip #2 - Compile a List of Essential Amenities and Features
It is important to understand what features are absolutely essential to make your getaway a success. If you're planning to study or need to keep up with your business, internet access is a must. If you're looking for a romantic getaway, perhaps a hot tub and fireplace are on your essentials list. Is this a family vacation? If so, you'll want to make sure there are things for the children to do. Your completed list of essential amenities will allow you to eliminate some options, and in so doing, quickly narrow down your list of possible cabins to rent.
Tip #3 - Compile a List of Desired Amenities and Features
In addition to your list of must-haves, consider those features which could make your getaway that much nicer.

Air conditioning (or heat, depending on the time of the year)
Fireplace (electric, gas, or wood)
Telephone in the cabin
Cable or Satellite TV
Swimming Pool
Fully stocked kitchen
Linens and towels
Outdoor fires permitted
Specific amenities will be much more important to some folks than others. Compiling a list of those that are important to you will help to customize your search, and determine that you'll be happy when you arrive at your destination.
While you're planning, spend a little time thinking about whether you'd like your cabin to be rustic, modern, or somewhere in between. What is called a cabin in some places might be considered a shack elsewhere.
Tip #4 - Research Your Options
Once you've made your lists of essential and desired amenities, it's time to start researching the various options. The first thing to think about is where you'd like to go. Is it close by, or at some distance? Do you desire to be close to a specific attraction? And what about the cabin surroundings? Do you want to be secluded in the woods, or close to other folks?
A good option for research is to ask friends. Perhaps someone you know and trust has rented a cabin in the area you're looking at, and can offer recommendations. Maybe their experience was great and they'd love to return, or perhaps their experience was less than stellar. Either way, you're sure to gather valuable insights.
Of course the internet contains an incredible wealth of information. You could start your search with something like "cabin rentals in Virginia." Or "Virginia mountain cabins." With just a little creativity, it should be easy to find quite a few options. Pick the ones that stand out to follow up on…just remember that every place of business works hard to put its best face on the internet, so a little additional research is necessary.
Tip #5 - Learn Exactly What is Offered
Now that you have a few cabins to look at, it's time to evaluate. Compare each one with your list of essential amenities. Those that don't meet your requirements can quickly be discarded. Now compare with your desired amenities and features. This can help you to rank the remaining cabins in an order of most desirable to least.
Try to look at some pictures. Many cabin rentals will have photo galleries on their website, or on their Facebook pages. Spend some time exploring everything you can see, and pay close attention to the details.
Tip #6 - Determine Your Costs
Now it's time to examine the costs associated with each cabin rental. Looking first at your most desirable option, check the website to see the rate and find out how much the tax is. Then look on the policies page to see if there are any hidden fees, such as cleaning fees, damage deposits, linen charges, processing fees, additional person fees, etc. Many cabin rentals do charge hidden fees such as these, so make sure you know the total cost of renting. If the internet isn't clear, give them a call. It is your money, after all.
Tip #7Ask Questions
Ask lots of questions to clear up anything you're unsure about. It is helpful to determine how close you'll be to stores, restaurants, gas stations, etc. You'll also want to know what you need to bring. For instance, some places provide linens while others expect you to bring your own. The same is true with many other items, such as kitchen supplies and paper products. Ask if they have a list of things that they provide and things you need to bring.
Tip #8 - Verify Directions
It is never fun to get lost, but can be especially disconcerting after a long drive when you're tired and ready to settle into your cabin, and the sky is rapidly getting darker. Check the website of your cabin rental for specific directions, and do not depend on MapQuest or a GPS. For one thing, those directional aids may get you to your final destination, but they don't always choose the best route to do so. Sometimes it's even possible for the GPS to completely fail at locating your destination, especially if it is in a remote area as is common for cabin rentals.
Follow these eight tips on planning the perfect cabin getaway, and you'll be certain to find one that fits your needs and desires.
About Cabin Creekwood
Stan & Deb Horst have owned and operated Cabin Creekwood since 1995. They consistently provide a quality getaway in the Blue Ridge Mountains of Virginia. Many of their guests return year after year to experience the quiet peacefulness found at their cabins. For more information on how you can experience this great getaway, check out their website at http://www.cabincreekwood.com.
###