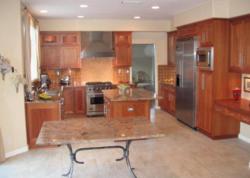 In addition to the new Corian available, customers appreciate Aurora for great prices, fast service, careful installation, plus a large selection of cabinets and countertops
San Rafael, CA (PRWEB) February 14, 2012
During 2012, Corian, a durable polymer surface, will be specially priced at Aurora Cabinets and Countertops Inc. The Bay Area cabinetry design company features an abundant selection from the Classics to the Private Collection and offers corresponding sales on sinks.
The 2012 Corian Classics promotion is sold at Group A Pricing and the colors available are glacier white, bisque, canyon, aurora, linen, moss, platinum, Sahara, sand and silt. The Private Collection is sold at Group C pricing and is available in these colors and styles: burled beach, clam shell, lava rock, jasmine, allspice, arrowroot, basil, hazelnut, hickory smoke and witch hazel.
The free sink promotions are as follows: Aurora Cabinets is giving out a Vanity 810 sink. The installation price is set at $149 each. This sales ends on March 31. The free kitchen sinks available in this promotion are model numbers 850, 873, 874 and 881. Installation price is set at $380 each, and the sale ends Sept. 1. The kitchen sinks with model numbers 871 and 872 have an installation price set at $260 each, and the sale ends Sept. 1. Last but not least, the free Vaso Kitchen sink, model 966, has an installation price set at $589 each. This sale also ends Sept. 1. The sinks are only available in bisque, bone, cameo white and glacier white Corian.
"In addition to the new Corian available, customers appreciate Aurora for great prices, fast service, careful installation, plus a large selection of cabinets and countertops," Bill Withers of Sausalito said.
For more information, please call 415-213-4789 or view the company on the web at http://www.auroracabinets.com. Aurora Cabinets and Countertops Inc. is located at 30 Mark Drive in San Rafael.
About Aurora Cabinets and Countertops Inc.
Bay Area's Aurora Cabinets understands that the key to a perfect cabinet is a seamless installation. With 50 years of industry experience, customers can remain assured that their cabinet makers and installers will not only meet but also exceed their expectations. Unlike most in the Bay Area cabinetry design industry, the same men who build the cabinets also install them. This allows for the knowledge of exactly how the cabinets were built to fit together. Aurora is the first stop for the Bay Area's custom cabinets, granite countertops and cabinetry design.
###