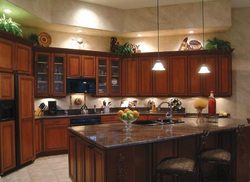 Cabinet refacing is a great option for homeowners who are pleased with the current layout of their kitchen or bathroom but wish to improve the look
Scottsdale, AZ (Vocus) June 11, 2010
Cabinet refacing in Phoenix with Republic West provides homeowners a more cost effective home improvement solution than cabinet replacement while resulting in the beautifully remodeled kitchen of your dreams.
Cabinet refacing is the process of replacing cabinet doors, drawer fronts, drawers, hinges, glides and knobs and then applying wood to match the door wood on the entire cabinet box. As opposed to breaking down the entire cabinet and installing a new one, you can simply reface your cabinets in your bathroom or kitchen. Since the interior of most cabinets are in very good shape and that is the only part of the cabinet that remains as is, cabinet refacing is a great alternative for many people. Cabinet refacing saves you a lot of time, money and labor and is highly popular due to the remarkable benefits.
"Cabinet refacing is a great option for homeowners who are pleased with the current layout of their kitchen or bathroom but wish to improve the look," said Linda Zimmerman, co-owner of Phoenix / Scottsdale based Republic West. "Cabinet refacing is less expensive, less complicated, prevents waste, eco-friendly and offers just as many options as cabinet replacement."
Republic West, who specializes in cabinet refacing in Phoenix, is now offering discounts of up to 40 percent on cabinet refacing over their 2009 prices. These incredible discounts offer homeowners the opportunity to save even more on this already cost effective home improvement solution.
The final result of cabinet refacing in Phoenix is similar to that of cabinet replacement. Given the numerous benefits of refacing, there is no real reason for you to choose to replace your cabinets if they are not in bad shape and if your kitchen or bathroom layout works for you and your family. Refacing cabinets not only saves you time and money but also offers you numerous style options, is less complicated and environmentally friendly.
About Republic West, Inc.
Republic West, Inc. is a leading home improvement company specializing in complete home remodeling including kitchens, bathrooms, interior remodeling, room additions, energy efficient window and door replacement, cabinet re-facing and more. Headquartered in Scottsdale, Arizona and founded by Linda Zimmerman and Jim Weisman in 1995, Republic West is an operationally driven company that utilizes various disciplines, processes and procedures to help insure that it can deliver what is promised and is careful to only promise what it can control.
A revolutionary company, Republic West hires, trains, and staffs best-of-class operational management, senior and apprentice foreman, customer service personnel, division administrators, and design and sales staff, thereby ensuring that for every project, service does not become a byword. T.O.P Assurance (Thorough Operational Process) is an integrated 3-phase, track-able process designed to create synergy before, during and after your home improvement project.
Republic West can be found on the web at http://www.RepublicWest.com.
# # #