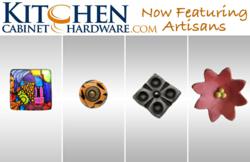 "A huge gap still exists between the artists and large corporations when it comes to selling on mainstream websites. At Kitchen-Cabinet-Hardware.com we're trying to bridge that gap."
-David Mason, CEO
Bloomfield, CT (PRWEB) May 29, 2013
Online retailer Kitchen-Cabinet-Hardware.com, which features many of the world's most popular cabinet hardware brands, is now adding some of the least well known as well. In addition to carrying dozens of top brands, including Top Knobs and Amerock, the site now features small artists and independent craftspeople.
After running a Beta Test with four independent artisans, Kitchen-Cabinet-Hardware.com has decided to expand its offerings, inviting all small artists and independent craftspeople to submit their work. Results of the Beta Test showed a strong market for the hand made goods and significant interest from customers.
David Mason, Owner and CEO said, "Historically, small artists and independent craftspeople have struggled to get their wares in front of customers nationwide. The advent of sites like Etsy has created portals for them to sell to buyers specifically looking for handmade items. However, a huge gap still exists between the artists and large corporations when it comes to selling on mainstream websites. On kitchen-cabinet-hardware.com we're trying to bridge that gap."
Artisans do not need to maintain a large stock of items in order to begin selling. Mason added, "Customers have shown a willingness to wait longer for hand crafted items and are willing for there to be natural variations between the items, allowances they would not be willing to make for the national brands."
Artists and Craftspeople wishing to submit their work can visit http://www.kitchen-cabinet-hardware.com or email crafts(at)tailofthelion(dot)com.
About Kitchen-Cabinet-Hardware.com
Kitchen-Cabinet-Hardware.com is part of Tail of the Lion, Inc. Tail of the Lion, Inc. was created based on the ancient principle that "it is better to be a Tail to Lions, than a Head to Foxes." The Lions imply the great, inspiring, and principled leaders of our times. As a small business, we strive to be amongst them. We run a fun, family friendly business that puts honest values at the top of our priority list.