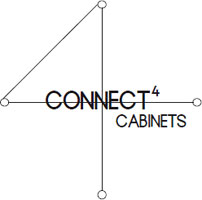 The success of our performance will be determined by the level of our customer satisfaction." - Joe Jacobus, President
Wilmington NC (PRWEB) May 10, 2012
Connect 4 Cabinets offers you cabinetry from two leading name brand manufacturers delivered directly to you through the "Connect 4" system, avoiding unnecessary freight costs, handling costs and mark ups.
Unique and a "first of its kind" is the best way to introduce Connect 4 Cabinets. Three very experienced and successful Companies have joined together to answer a question that the market has been asking since the Construction Industry bubble burst of 2008. "How can cabinetry be delivered to the market place with lower costs and higher standards for quality and service?"
Simplicity, efficiency, fast response, lower prices, performance, and high quality service is now in command. Connect 4 Cabinets has emerged as an innovative leader for doing business a different way.
Connect 4 Cabinets is a division of Markraft Cabinets Inc. a Wilmington NC based Company that has been servicing local builders and retail customers since 1985. The industry knowledge of Markraft Cabinets and years of experience, partnered with state of the art manufacturing is now able to offer opportunities that were previously unobtainable. Connect 4 Cabinets is a joint effort initiative of Woodmont Cabinetry, Ultra Craft Cabinetry and Markraft Cabinets Inc.
Energetic and Eager to Help
■Product information at your fingertips
■Design assistance
■20/20 CAD support
■Order processing
■Order tracking
■Delivery services to your dock, project or door step
■Warranty parts and pieces
■Fast access to real people and quick response
Connect 4 Cabinets Partners
■Displaying Dealers
■Remodeling Contractors
■Rehab Contractors
■Property Management Companies
■Apartment owners
■Freelance Dealers
■Designers
■Decorators
■Builders
■Developers
For more Information
Please contact Connect 4 Customer Service at 1-855-264-5667