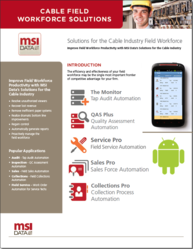 Our mobile software for the cable field workforce replaces inefficient paper, spreadsheets and other disconnected systems, driving significant field workforce productivity gains and rapid ROI for cable firms.

- Harvey Shovers
President, MSI Data
Milwaukee, WI (PRWEB) October 09, 2012
MSI Data, a leading developer of field workforce automation software for the cable industry, today announces that its suite of cable mobile applications will be on display at the SCTE Cable-Tec Expo® tradeshow in booth 2307 in Orlando from October 17th to the 19th. MSI Data is helping North America's leading cable companies dramatically improve their field workforce productivity through state of the art mobile software for tap audits, quality control inspections, direct sales, collections, asset management and field service, as well as integrated field management software for the cable operator or contractor home office.
"Cable firms have made significant investments in training their installers, service technicians, inspectors and other field workforce personnel," said Harvey Shovers, President of MSI Data. "Our mobile software for the cable field workforce replaces inefficient paper, spreadsheet and other disconnected systems, significantly increasing field worker productivity."
Cable MSOs and contractors are increasingly looking to field workforce automation software to resolve unauthorized viewers, recover lost revenue, more efficiently deliver services to their customers and simplify management of complex field to office business processes. MSI Data has a proven track record of helping cable MSOs improve their bottom line through better management of the tap audit, qc inspection, sales, collections and other field-driven business processes.
MSI Data's cable field workforce applications bridge the field force execution gap by combining cross-platform mobile applications with field management software and cable billing system integration. MSI software for cable MSOs automates:

Mobile Audit - Tap Audit Automation
Mobile Inspection - QC Inspection Automation
Mobile Sales - Field Direct Sales Automation
Mobile Collections - Field Collections Automation
Mobile Field Service – Work Order Automation for Service Techs
Asset Management – Field Asset Management Automation
MSI Data's deployment options provide cable operators with the flexibility they need in the rapidly changing enterprise mobile marketplace. Available as native applications for Android, iPad, iPhone and Windows mobile devices, MSI mobile software for cable operators may be deployed on each of the dominant smartphone and tablet platforms, supporting the increasingly popular "Bring Your Own Device (BYOD)" enterprise mobile device strategy.
The MSI cable suite is a vertical market solution from the MSI Field Force Studio, a suite of configurable mobile software applications which automate the most common tasks performed by field workers; from repair, installation and preventive maintenance services to inspections, site surveys and assessments. Focused on improving field workforce productivity, mobile software applications from the MSI Field Force Studio are available for iOS, Android and Windows devices. The MSI Field Force Studio also connects data collected in the field with ERP, CRM and Billing Systems, as well as MSI Data's own field management software.
About MSI Data
MSI Data develops enterprise, scheduling and mobile software that helps companies improve the productivity of their field workforce. World class service organizations such as Time Warner, Bradley Corporation, Tax-Air and Heartland Computers rely on MSI Data's powerful suite of field workforce software to automate field service, inspections, site surveys, audits, reporting and other critical field-driven business processes. MSI Data replaces paper and disconnected spreadsheet-based business processes with highly efficient, end-to-end processes through the combination of mobile technology for field workers and ERP, CRM and accounting systems integration. Whether deployed in the cloud or on-premise, MSI field workforce software applications are easy to acquire, easy to deploy and deliver enterprises with rapid return on investment. To learn more, please visit http://www.msidata.com.
iPad® and iPhone® are registered trademarks of Apple. Android® is a registered trademark of Google. Windows® is a registered trademark of Microsoft.