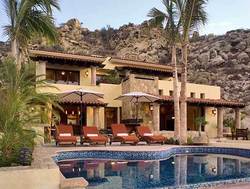 Our motto is 'No one knows Los Cabos better' and I'm honored to be recognized for this by such a respected travel publication
Cabo San Lucas, Mexico (PRWEB) March 24, 2011
Highlighted in the magazine's April 2011 edition are 44 top picks for vacation villa rental specialists throughout the world. The list is carefully vetted each year by Wendy Perrin, Consumer News Editor for Condé Nast Traveler, and represents those luxury villa agents representing the travel industry's finest in service, exceptional vacation properties, exemplary business practices and local destination expertise. For the 6th consecutive year, Julie Byrd has been named as a leading vacation villa rental specialist.
Having been with the team of CaboVillas.com for nearly a decade, Byrd explains the company's hands-on approach to customizing client travel, "We don't sell cookie-cutter Cabo vacations. Each villa experience is completely personalized for each client's preferences and budget—whether for an intimate family getaway on a beautiful Baja beach or a lavish destination wedding in a luxurious villa." In addition, each vacation property is chosen to meet the company's stringent requirements for amenities and quality.
Also highlighted in Condé Nast Traveler are two of the company's villas. Exceptional 9BR Villa Turquesa offers a gourmet kitchen and breathtaking panoramas of the Pacific Ocean from its dramatic pool terrace. Hacienda-style 6BR Villa Andaluza boasts romantic Mexican architecture and sensational ocean views. Each of these Cabo San Lucas villas and many more are offered through the company's website, with seasonal specials available.
"Our motto is 'No one knows Los Cabos better' and I'm honored to be recognized for this by such a respected travel publication—nothing gives me more satisfaction than a happy guest who's enjoyed their dream vacation at Land's End," says Byrd.
About CaboVillas.com (Earth, Sea & Sky Vacations)
Specializing in Cabo vacations for over 20 years, CaboVillas.com represents 114 private villa rentals and 47 Cabo resorts. The company's knowledgeable staff offers an unparalleled level of personalized travel service, customizing a complete experience for each guest. CaboVillas.com also offers in-villa spa and chef services, private jet and yacht charters, tours, golf reservations, fishing charters, ground transportation, a 24-hour Cabo San Lucas service team and full event/destination wedding coordination.
Facebook: http://www.Facebook.com/CaboVillas
Twitter: http://www.Twitter.com/CaboJulie
# # #