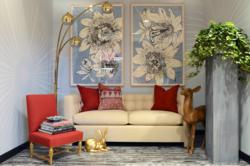 It was fun and exciting to come upon a true find. Mr. Hadley's chair was the perfect piece to inspire the entire design.
(PRWEB) December 20, 2012
Allison Caccoma, the interior design principal of Caccoma Interiors, and a protégé of famed interior designer Bunny Williams, was honored to be among the designers participating in the November 2012 Southport, CT showhouse event, Rooms With a View. The 18th annual charitable design event, conceived by interior design icon Albert Hadley, transformed the Southport Congregational Church hall, in Southport, Connecticut, into a dazzling showhouse that featured twelve miniature rooms by prominent interior designers trained in the Parish Hadley design lexicon.
The theme of Design on a Shoestring inspired Allison to create a vignette around a gilded Louis XVI chair previously own by Albert Hadley. As Allison says " It was fun and exciting to come upon a true find. Mr. Hadley's chair was the perfect piece to inspire the entire design." Design touches that nod to Mr. Hadley, such as an abstract stencil of his iconic sunburst mirror hand painted on the walls paired with a black and white faux bois floor design, lent just the crispness he would have loved. The space was classically modern with the right hint of whimsy and edited simplicity allowing Allison's creativity to shine through in homage to Mr. Hadley's true spirit.
Allison's room and the showcase generated numerous blog and press mentions including a feature on the popular interior design blog Quintessence. Noted interior designer Thom Filicia served as the Honorary Chair for this years design showcase. To learn more about this annual charitable event and to support this fine community organization, please visit the Southport Congregational Church website.
About Allison Caccoma
Former Wall Street US Treasury Bond Salesperson and native New Yorker, Allison Caccoma received her design training at the New York School of Interior Design, earning her degree in Applied Science. Upon graduation, she had the good fortune to go to work at the firm of design legend Bunny Williams. Under William's seven-year tutelage and mentorship, Caccoma had the opportunity to design and decorate some of the country's most significant private homes including formal estates in Ohio and Connecticut, and Bunny Williams' personal seaside villa in Punta Cana, Dominican Republic.
Following one year with respected contemporary designer Jeffrey Bilhuber, she set out on her own, founding Caccoma Interiors in 2006.
Caccoma's residential design projects span the United States, including homes in New York, Connecticut, Rhode Island, Florida and California. She brought her innate New York style sensibility and sources to California in 2011, opening an office in the Presidio Heights neighborhood of San Francisco.
Published in House Beautiful and At Home magazines, Caccoma's work can be viewed on her website at http://www.caccomainteriors.com .
Caccoma Interiors Design Philosophy and Services
Allison Caccoma's design philosophy embraces a modern luxury that is rooted in classicism and inherent timelessness. Mixing the whimsy and elegance of the past with fresh color palates and interesting objects, she helps clients define and express their own tastes and visions to create a comfortable home that will endure ever changing trends.
Caccoma's experience and services are comprehensive and include architectural consultation and construction collaboration to compliment all aspects of the decoration of a home. Caccoma offers her considered advice, inspiration and passion to clients, resulting in homes and spaces that are inviting, engaging and luxurious yet inherently livable.