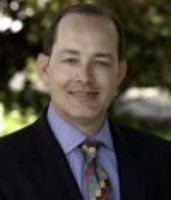 We are very pleased that he will remain active on the board and wish him all the best in his other endeavors.
Austin, TX (PRWEB) October 4, 2008
CACH Capital Management, an Austin-based registered financial advisory firm, announced today that Geoff Connor is stepping down as chairman.
"I have enjoyed my last two years as chairman of CACH and I'm excited to have been part of its launch," stated Connor. "In spite of market turbulence, we have raised the company to $50MM by outperforming the market benchmarks while providing superior customer service. I will continue to be involved, of course, but I now need to turn my primary attention to other matters."
Connor was one of the original founders of CACH and has served as chairman since the formation of the company in July 2006. Connor will retain an ownership interest in the firm and will remain on the board of directors.
"Having Geoff along with his knowledge and experience as chairman at CACH has definitely contributed to our initial and continued success," said CACH President & CEO Michael Hundley. "We are very pleased that he will remain active on the board and wish him all the best in his other endeavors."
Aside from CACH Capital Management, Connor is one of the founders and the principal of Texas Global, LLP, a consulting firm on international business and marketing matters. Connor also is a registered lobbyist in Texas working for a variety of business interests both foreign and domestic, as well as an attorney and co-founder of Connor and Demond, a general civil practice firm with an emphasis on state regulatory, environmental and immigration law matters. Formerly, Connor held the post of Texas Secretary of State. Connor is frequent speaker and is involved in many community, church, professional and charitable activities.
About CACH Capital Management, LLC
CACH Capital Management, LLC, a Texas-based money management firm, sets the new standard in managed portfolios, global hedge funds and business advisory services. CACH maintains a sharp focus on disciplined investing to achieve high levels of performance for its clients, which include institutions, mid-market businesses and high net-worth individuals. The firm has established an impressive track record of performance in both private and public endeavors benefiting their investors and clients.
Each CACH team member has been selected for the specialized expertise he brings to the firm. The human capital of CACH Capital represents over 50 years of investment experience and over 100 years of combined expertise in the business, legal and financial fields. All CACH Capital members share an intense commitment to accountability, communication and transparency to the firm's clients.
For more information, visit http://www.CACHCapital.com
###