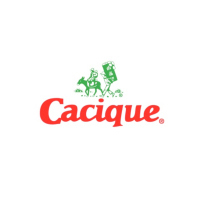 We are pleased to share our timeless Mexican recipes to complement any Cinco de Mayo celebration
Industry, CA (Vocus) March 30, 2010
Celebrate this Cinco de Mayo the authentic way with Cacique's family of authentic Hispanic products and recipes to enjoy the rich history and culture of Mexico with traditional Mexican cuisine.
Cacique® combines old-world traditions with new world technologies into their line of fresh and aged traditional cheeses, creams, chorizos and beverages and proudly offers easy-to-make, delicious and savory Mexican recipes that will add flavor and spice to any Cinco de Mayo celebration.
"We are pleased to share our timeless Mexican recipes to complement any Cinco de Mayo celebration," says Gil de Cárdenas, Vice President and Chief Operating Officer at Cacique. "Our award winning line of fresh and natural Hispanic products help at-home cooks replicate fresh and authentic dining experiences in their own kitchens to make traditional Mexican cooking fun and accessible to everyone."
Go auténtico this Cinco de Mayo with these three traditional Mexican recipes from Cacique or visit http://www.caciqueusa.com/a_recipebymealoccasion.asp for other delicious recipes that are perfect for your Cinco de Mayo celebration or anytime.

1 pkg Ranchero® Queso Fresco - crumbled
1/2 cup Cacique® Crema Mexicana
1 1/2 lbs carnitas - shredded or chopped
1 large can red enchilada sauce
1/3 cup cilantro (fresh) - chopped
3/4 cup onions - chopped (reserve 1/3 cup for garnish)
8 flour tortillas - (or corn tortillas)
oil - for frying
Preparation Method: Delicious ready made carnitas can be purchased at the meat counter of most Latin markets.
Preheat oven 375°. In a large bowl, mix carnitas with ½ package crumbled Queso Fresco, onions and cilantro. Fry tortillas in oil then dip in enchilada sauce, fully submerging for about 5 seconds. Place "fried" tortillas on a plate.
Spoon about 3 tablespoons of carnitas mixture, roll tortilla and place seam side down on a baking dish. Repeat with each tortilla. Pour remaining sauce over the enchiladas and bake for 10-15 minutes. Top with crema, onions and crumbled Queso Fresco.
Servings: 4 - 6
1 12-oz pkg Ranchero® Queso Fresco - crumbled
1/2 cupCacique® Panela - crumbled
1/2 cup Cacique® Cotija - crumbled
1/2 cup cilantro (fresh) - chopped
1 small-size cucumber - diced
1 lime - juiced
1 tbsp olive oil
2 tomatoes - chopped
Tortilla chips
1/2 cup white onion - diced
Preparation Method: Mix all ingredients together and serve on tortilla chips
Servings: Varied
1/2 pkg Cacique® Enchilado - crumbled
1 pkg Cacique® Longaniza or Cacique® Beef Chorizo
1 pkg Cacique® Manchego - shredded
1/3 cup black olives - sliced
6-12 corn tortillas
1/4 cup green onions - chopped
1/2 cup oil - (for frying)
1 can refried beans
1/4 cup red chile sauce
Preparation Method: Preheat oven to 375°. In a medium skillet cook chorizo until it crumbles and browns. Drain if necessary.
Heat oil in a large skillet heat oil. Break or tear corn tortillas in big pieces and carefully fry them in oil until golden and crispy. Place on paper towels to absorb excess oil.
Heat refried beans. Spread about half tablespoon of beans on each tortilla chip and place on baking tray. Next, sprinkle chorizo and pour chile sauce over chips. Top with shredded Manchego. Place in oven to heat until cheese melts, about 5-7 minutes. Remove from oven and quickly place on platter. Top with sliced olives, green onions and crumbled Enchilado cheese. Serve with Crema Chipotle.
Crema Chipotle: Mix 1 cup Cacique® Crema Poblana® with 1-2 tbsp chipotle chiles in adobo. Refrigerate one hour
Servings: Varies
(*Note: Recipes can be reprinted with permission from Cacique)
Cacique products are available at leading national retailers such as Albertsons, Costco, Food Lion HEB, Kroger, Safeway and WalMart and HEB and Hispanic specialty retailers such as, Fiesta, Food 4 Less, Northgate, Mi Pueblo, Pete's Fine Foods, Sedanos, Superior Warehouse and Vallarta.
To learn more about Cacique and their family of products, please go to http://www.caciqueusa.com/.
For news updates, information and special offers, follow the Cacique on Twitter @Cacique_USA.
About Cacique®
For nearly four decades, authenticity, integrity, family pride and tradition have made Cacique® the largest Hispanic cheese brand in the U.S.
Cacique has combined old-world traditions with new world technologies into the Cacique family of products, which includes fresh and aged traditional cheeses, creams, chorizos and beverages to provide customers with high quality, authentic products made with traditional ingredients they have come to know and enjoy.
For more information about Cacique's authentic line of natural Hispanic products, please visit http://www.caciqueusa.com or call (800) 521-6987 or (626) 937-3505.
###