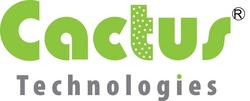 SSD allows up to 32Gbytes of capacity with industry leading Ruggedness, Quality and Reliability.
HONG KONG (PRWEB) July 24, 2008
"The 2.5" Solid State Drive is the latest release in our 303 Series product family and comes on the footsteps of our 303 Series CompactFlash launch in April," said Sai-Ying Ng, President of Cactus Technologies Ltd. "As with our CompactFlash, there is not a product in the marketplace that can match the combination of performance, reliability and environmental specifications of the 303 Series 2.5" Solid State Drive."
The 303 Series SSDs contain our new state of the art controller and allows us to offer the many high performance specs as follows:
Capacity points of 128, 256, 512Mbytes, 1, 2, 4, 8, 16 and 32Gbytes up to 35Mbytes/sec sustained read and 20Mbytes/sec sustained write performance1 Support for up to UDMA Mode 4, PIO Mode 4 and MWDMA Mode 2. BOM Control & Long Life Cycles > 2 Million endurance cycles per block Optional extended temperature range of -45C to +90C Altitude spec of 100,000 feet Industry Leading ECC, Wear Leveling and Defect Management Flash Power Down Logic Write Abort Protection Circuitry 4 Million Hour Mean Time Between Failure Joseph Chang, Vice President of Engineering, added, "Our 2.5" SSD is becoming a popular replacement to "Industrialize" computing applications in rugged environments by replacing the rotating hard disk drive with solid state performance and reliability. Our 303 Series 2.5" SSD allows up to 32Gbytes of capacity with industry leading Ruggedness, Quality and Reliability."
Cactus Technologies is the designer, manufacturer and marketer of Industrial Flash card products using industry leading controller technology and industrial strength flash memory. Cactus Technologies, Ltd. is headquartered in Hong Kong and has sales and distribution channels worldwide.
1 Actual performance varies based on host system and application
2 1 Mbyte = 1 million bytes; 1 Gbyte = 1 billion bytes.
The Cactus web site/home page address: http://www.cactus-tech.com/index.html
Cactus Technologies and the Cactus logo are trademarks of Cactus Technologies, Ltd., registered in the U.S. and other countries. Other brand names mentioned herein are for identification purposes only and are trademarks of their respective holder(s).