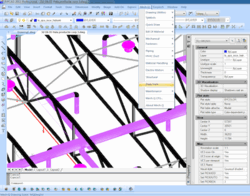 We've created these 2 attractive choices for AViCAD users who perhaps can't afford all the tools, in order for them to still obtain an extremely robust CAD system
Bend, OR (PRWEB) September 27, 2012
Today AViCAD announced it will introduce 2 new options available for their CAD Software, which will feature different combinations of engineering tools for the Plant and Piping Industry.
  
The Engineering Software company announced there will be a more affordable version (called the Starter Pack) and feature packed version (called Professional Plus). Both versions will include both 2D and 3D CAD drafting tools to support 2012 DWG technology.
"Both packages offer an ideal setup for both small and large Architectural or CAD Engineering firms. Upgrade options will also be available for those who wish to add the Professional Plus options at a later date" explains Owner, Victor Abela.
The new options will become available mid-October 2012. At the time of the product launch, the company also plans to release many new features into both product lines.
Victor continues "We've created these 2 attractive choices for AViCAD users who perhaps can't afford all the tools, in order for them to still obtain an extremely robust CAD system. And for those who need the complete setup including additional libraries, unlimited BOM and 3D Mechanical - a professional version will also be offered."
The combination packs are detailed as follows:
AViCAD Starter Pack will include the following:

AViCAD 2D/3D 2013 CAD license
2D Mech-Q Engineering Tools
2D Architectural Tools
General BOM* drafting utility
AViCAD Professional Plus will include the following:
AViCAD 2D/3D 2013 CAD license
Both 2D and 3D Mech-Q Engineering Tools
2D Architectural Tools
Full BOM* in all modules
20,000 2D/3D CAD blocks (for many industries)
*BOM is an acronym for Bill of Materials
The new product options will be available with the upcoming release of AViCAD 2013 in October 2012.
A short video introduction to AViCAD and download a free trial are also available on their website.
About AViCAD
AViCAD clients are involved in hydro power, food processing, aquaculture, petrochemical, biotechnology, treatment plants, heavy industry, marine, mining, military, pharmaceutical, pulp & paper, energy generation, snow making plants and various other related markets.
For more information about the company, latest news, and purchasing information, visit avicad.com on the Web at http://www.avicad.com/about.
Please contact Erik Zetterberg, 61149 South Hwy 97, #109 Bend, OR 97702 USA, Tel: (888) 271-7121 sales(at)avicad(dot)com, with questions about this press release.