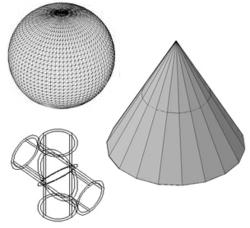 With just a few simple tweaks taking just a couple of minutes, many CAD users will notice a dramatic difference in their 3D rendering.
Bend, OR (PRWEB) November 27, 2012
SimpleCAD.com discusses 4 settings CAD users can change to increase redering quality in 3D CAD drawings. Once these are changed the resulting CAD model will either have a smoother surface or improved definition and detail.
SimpleCAD President, Erik Z, remarks "Many CAD programs like AutoCAD® or IntelliCAD are auto-configured to maximize your system performance. With just a few simple tweaks taking just a couple of minutes, many will notice a dramatic difference in their 3D rendering."
Inside each CAD Program, there are what are referred to as system variables. System variables allow CAD users to quickly customize their drawing settings without having to locate a command within a menu or dialog box. Most all CAD system variables are editable at the command line by typing the variable and either accepting or changing the value.
Depending on the computers hardware and memory limitations, the larger and more complex a 3D drawing becomes, the greater chance that a performance loss may occur. In order to find the best setting, the CAD drafts-person or designer will need to fine tune and experiment with various settings.
4 System Variable Settings To Improve 3D CAD Display
1) DISPSILH:
Display Silhouette -The CAD system default is 0 (no), setting this to 1 (yes) will clarify the display of a hidden line plot. On complicated models, recalculating the silhouette edges takes a long time so overall it is recommended to leave this at 0 to maximize drawing performance.
2) ISOLINES:
Isometric lines- CAD users may want to leave this set to 4 (default setting) as it will not affect plotting/printing time. Keep in mind, the higher this variable is set, the more lines will be rendered within in a wire-frame view. Longer processing times may also occur if value is too high.
3) FACETRES:
Facet Resolution - This setting will affect how a curve surface is rendered. For smoother result CAD drafters can increase the value to 2 or greater. The default is 0.5 while the max is 10. A higher number results in a more triangulation and amount of 3D detail.
4) SPINESEGS:
Spline Segments - This variable controls the number of spline divisions created for each segment in a 3D poly-line using the PEDIT command. While the default is 8 (or eight segments) it can be increased to 20. The higher the number the larger the resulting CAD file size. The lower the number defined, the sharper the curve.
These settings when used properly can greatly improve the quality of a wire-frame, shaded model or final rendering. Generally speaking there is no right or wrong way to configure system variables in CAD. This will depend of the type of drawing, the speed of the machine and the total size of the drawing.
More information about other System Variables can also be accessed in the CAD programs Command Reference Help Section.
ABOUT SIMPLECAD.COM
SimpleCAD is located in Central Oregon, USA. They offer exclusive phone support in the U.S., Canada and also internationally. Their CAD software offerings range from complete 2D/3D CAD programs to Piping Symbols and Mechanical add-ons. Block Libraries and hatch patterns for AutoCAD are also available. They can be reached b y calling 877-933-3929 or by emailing them at mail(at)simplecad(dot)com.