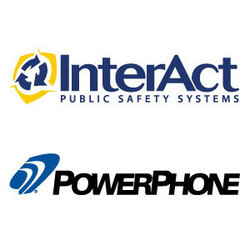 This is an important step for both PowerPhone and InterAct
Winston Salem, NC (PRWEB) July 22, 2008
InterAct Public Safety Systems, a leading provider of mission-critical public safety and homeland security solutions has announced the development of an interface that will allow its computer aided dispatch (CAD) system to communicate with PowerPhone's Total Response® Computer Aided Call Handling™ (CACH software.
"This is an important step for both PowerPhone and InterAct," said Chris Salafia, president and CEO of PowerPhone. "Integrating CACH and InterAct CAD will provide our mutual clients with unrivaled sharing of incident specific information. Together, our systems will assist the dispatcher from the first call for help to incident resolution."
PowerPhone's Total Response software is designed to standardize the 9-1-1 information gathering process. With the interface to InterAct CAD, Total Response will be able to pass objective dispatch recommendations on to CAD, as well as append specific call details directly to the incident record.
Both companies will be exhibiting at the APCO International Conference and Expo in Kansas City, MO August 4 - 6, 2008. InterAct Public Safety Systems will be in Booth 2130 and PowerPhone in Booth 1816.
About InterAct Public Safety Systems
Since 1975, InterAct Public Safety Systems has been Making Connections for Life™ providing both stand-alone and fully integrated mission-critical public safety and homeland security systems and products. As the pioneers of the first three-screen E911 system 20 years ago, our passion for innovation is leading the way to Next Generation telephony, dispatch, records management, and mobile data systems. We're extending the definition of public safety with unique applications like intelligent digital video surveillance, alert notification, and crisis management systems. InterAct makes it possible for first responders from private, state, local and national agencies to decrease response times and increase their effectiveness in the communities they serve. InterAct is also an ISO 9001:2000 certified company. Learn more at http://www.interact911.com or by calling 1-800-768-3911.
About PowerPhone
PowerPhone, Inc. is the world leader in crisis communications training. Since its inception in 1984, PowerPhone has trained over 120,000 public safety professionals how to save seconds and save lives in emergencies. As the first organization to train 9-1-1 operators in police, fire, and medical communications, PowerPhone has set the standards for call-handling throughout the world. Learn more at http://www.powerphone.com or call 1-800-537-6937.
###