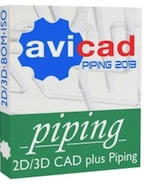 ... allows both small and large firms to acquire a powerful 2D and 3D CAD System at 1/8th the cost of AutoCAD®
Bend, OR (PRWEB) June 19, 2013
New piping software was released at CADavenue.com today which includes AViCAD, a full CAD program containing AutoCAD®-Like commands.
CADavenue's President, Victor Abela explains "our new piping package is a perfect solution for both small piping contractors and large fabrication shops who need to draw piping schematics with ease."
The new software package creates both 2D and 3D pipe fittings and includes the following features:

Draws in single, double line, isometric and P&ID.
Includes a complete 2D/3D CAD application
Offers a wide range of pipe, fittings and valves
Builds vessels, pipe hangers and pumps
Comprises of DIN, ISO & ANSI specifications
Creates automatic BOM (Bill of Materials)
Allows customizable layers
Victor Abela explains "AViCAD allows both small and large firms to acquire a powerful 2D and 3D CAD System at 1/8th the cost of AutoCAD®. Users will appreciate its built-in DWG support to allow them to share their drawings with other CAD platforms including the latest AutoCAD® release."
The piping modules integrate within the CAD program's menu bar. The software can also tabulate fittings and pipe lengths using a schedule within the drawing.
About CADavenue.com
CADavenue also offers AViCAD Pro, which in addition to piping, also includes ducting, structural and mechanical tools. CADavenue's products also include a trial before purchasing.
CADavenue is located in Bend, Oregon and is open for tech support and sales questions between 8-5 M-F PST at 888-271-7121 or by emailing info (at) cadavenue (domcom).