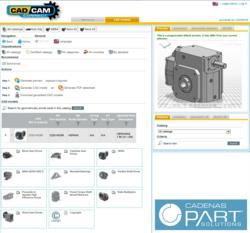 Giving our community of visitors access to thousands of native 2D/3D models will greatly benefit them - Ken Wilson, CEO CAD/CAM Connect
Austin, TX (PRWEB) December 13, 2012
The value in engineering designs, now more than ever, is built on productivity and efficiency. "Giving our community of visitors access to thousands of native 2D/3D models from more than 400 supplier catalogs for SolidWorks, Solid Edge, Autodesk Inventor, CATIA, NX, Creo Elements/ProEngineer and many more CAD systems, will greatly benefit them," stated Ken Wilson, CEO of CADCAMConnect.com.
The parts catalogs are certified by each manufacturer and are constantly being updated so that users will always have access to the latest and greatest models. This enables engineers to focus on their design instead of creating models of component parts they don't manufacture.
To access the new part catalog on CADCAMConnect.com, visitors can click on the 3D Part Catalog icon on the home page, or simply go to cadcamconnect.partcommunity.com. Here, users will easily find the parts they need from hundreds of manufacturers' catalogs used by the tooling, machinery, aerospace and automotive industries. By incorporating models certified by the manufacturer into their design, engineers increase their efficiency and design accuracy.
"We're excited to have our part catalogs seamlessly integrated into CAD/CAM Connect's site, since they stress the importance of helping design engineers do their jobs, faster and better, " said Rob Zesch, PARTSolutions President. "Time to market is crucial for companies, and we know that over 80% of CAD models a designer adds to his parts list are later purchased. This is why we strongly believe the introduction of PARTsolutions into the CAD/CAM Connect community will help engineers and designers be more productive, while maximizing the exposure of our customer's catalogs."
About CADCAMConnect.com:
Unlike traditional resellers, CADCAMConnect.com partners with multiple CAD/CAM/CAE product and service providers who are among the top in their industry. The site offers industry news, trends, user forums and discussion groups, with various deals on different products giving mechanical engineers and machinists one place to go for all of their needs.
About CADENAS PARTsolutions
PARTsolutions offers manufacturers cutting edge technology, including the creation of digital product catalogs with configuration, 3D previews and CAD downloads; as well as parts management solutions for industrial engineering and design teams to find, reuse, and control standard and proprietary parts. For component manufacturers, CADENAS PARTsolutions provides 3D part catalog with CAD download technology to increase sales lead generation and to ensure that components get "designed in" to OEM products. For more information, visit http://www.partsolutions.com
Contact:
Ken Wilson, CEO
CAD/CAM Connect
1-512-773-1521
http://www.cadcamconnect.com