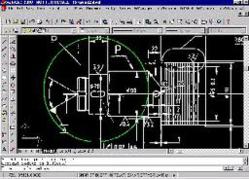 We wanted to partner with a company who has a proven track record of success in the industry - Ken Wilson, CEO of CAD/CAM Connect
Austin, Texas (PRWEB) January 30, 2013
With more and more companies wanting to preserve their old paper drawings for reuse, the demand for experts in the industry who specialize in raster to vector conversion has risen.
CAD/CAM Services, Inc. offers raster to vector conversion services for all types of scanned CAD files. Their team of professionals convert hard copy paper work to electronic format that makes archiving, retrieving, copying, editing, and sharing of the drawings easier. Once converted, the files can be easily imported into nearly any CAD system.
CAD/CAM Services, Inc. gives companies the choice of doing both the scanning and conversions for them, or having clients download their already scanned images to a website for CAD/CAM Services to convert. Their customers range from Automotive OEM's, to suppliers in Aerospace and Defense, Consumer Goods Manufacturers and Industrial Machinery Manufacturers. Their team of engineers and architects can be trained on the drafting standards of your company in order to give you the best results, while stressing accuracy of the final output.
"There are a lot of scanning and conversion services bureaus out there. We wanted to partner with a company who has a proven track record of success, and whose primary focus is scanning and conversion. CAD/CAM Services is also one of a few firms who has technicians with the United States Department of Defense Secret Clearances. Secret-level drawings can be scanned and converted using the Defense Security Service guidelines for the handling of Secret Data. This has been a huge benefit to our government clients", said Ken Wilson, CEO of CAD/CAM Connect.
CAD/CAM R2V provides a seamless blend of editing and conversion of architectural, mechanical and various technical drawings, maps, archive drawings, schematic diagrams photos and other types of line artwork from scanned raster files to various vector formats.
For additional information, call Ken Wilson at 512-773-1521.