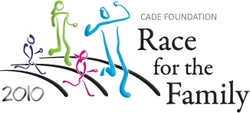 Shady Grove Fertility is delighted to work with the Cade Foundation to help more couples in our area and beyond fulfill their dream of starting a family.
Rockville, MD (PRWEB) September 9, 2010
For the second straight year, Shady Grove Fertility Center is donating free fertility treatment (up to $10,000, certain exceptions may apply) to be given away at the annual Race for the Family 5K and 1-mile Fun Walk on Sunday, September 26, at 8:30 a.m. in Rockville, MD. People from across the U.S. are eligible to enter the raffle by donating a minimum of $25 to the Cade Foundation or registering to race or walk at http://www.RaceForTheFamily.com. The award can be redeemed for basic infertility treatment, In Vitro Fertilization (IVF) or Donor Egg treatment at Shady Grove Fertility.
All proceeds raised will benefit Shady Grove Fertility's partner, Cade Foundation, a national non-profit organization that provides financial assistance to would-be parents. Through its annual Family Building Grant, the Cade Foundation provides couples struggling with infertility monetary gifts of up to $10,000 to help pay for infertility treatment or domestic adoption.
"We are delighted to work together with the Cade Foundation to help more couples in our area and beyond fulfill their dream of starting a family," said Frank Chang, M.D., a Shady Grove Fertility Center board-certified reproductive endocrinologist and Cade Foundation board member.
In 2009, through the generosity of participants, sponsors and donors, Race for the Family raised over $60,000 which helped to fund family building options for six couples. "We feel that cost should never be an issue that prevents a couple who is able to love and care for a child from having that chance," said Cade Foundation Founder Camille Hammond. "Shady Grove Fertility has been a wonderful partner and share the same vision to assist couples build their families.
This race is presented by Shady Grove Fertility with additional support from many sponsors including our Platinum Sponsor Paul, Hastings, Janofsky & Walker LLP.
To register or donate for a chance to win a FREE fertility cycle, please visit http://www.RaceForTheFamily.com.
About Shady Grove Fertility Center
Shady Grove Fertility Center is America's largest private fertility center, performing over 4,000 in vitro fertilization (IVF) cycles annually – more than all other Baltimore/Washington area fertility clinics combined. Twenty-three reproductive endocrinologists, Ph.D. scientists and geneticists, as well as 350 specialized staff care for patients in 12 full-service offices throughout the Washington, DC, and Baltimore areas. Shady Grove Fertility offers a comprehensive range of fertility treatment options including IVF, donor egg and pre-implantation genetic diagnosis (PGD) and integrative holistic care, as well as resources to address all patients' needs—medical, emotional, and financial. Shady Grove Fertility conducts clinical research in collaboration with the National Institutes of Health and is part of their subspecialty training Fellowship in Reproductive Endocrinology. Since Shady Grove Fertility's inception in 1992, more than 18,000 IVF babies have born. Shady Grove Fertility physicians have been featured as experts for comment on media outlets such as NBC's The Today Show, The New York Times, NPR's Diane Rehm Show (WAMU-FM 88.5, Washington, DC), and Parent Magazine. Washingtonian magazine listed Shady Grove Fertility among the area's Best Places to Work in 2007. Visit http://www.ShadyGroveFertility.com.
About Cade Foundation
The Tinina Q. Cade Foundation Inc. is a not-for-profit organization that provides education about fertility and family building options and offers financial assistance to infertile families. This dual approach distinguishes the Foundation as the only organization of its kind in the nation. At the age of 55, Tinina Q. Cade delivered her own triplet grandchildren in 2004. Her daughter, Camille Hammond, battled infertility for years and began the foundation in honor of her mother's unforgettable gift, and for other struggling couples. Visit http://www.CadeFoundation.org.
###