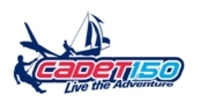 (PRWeb UK) June 1, 2010
On Wednesday 2 June 2010 hundreds of cadet force adult volunteers from all over the United Kingdom will descend on Guildhall in the nation's capital for a Cadet150 reception generously hosted by the City of London.
The reception aims to thank adult volunteers, past and present for their support, which in turn has enabled thousands of young people to participate in the cadet experience.
The event will take place at lunchtime on 2 June in the superb surroundings of the Guildhall in the City of London and a member of the Royal Family, senior politicians, and military officers have been invited and all Cadet Force Adult Volunteers – uniformed and civilian, past and present, are eligible to attend.
Cadet150 is a year of celebrations marking the 150th anniversary of the UK's cadet movement and involves hundreds of events all over the country throughout 2010, all designed to promote the movement and encourage people of all ages to get involved. Her Majesty The Queen is Patron.
With origins dating back to 1860, the cadet movement is one of the oldest and most successful voluntary youth organisations in the world. A force to be reckoned with, today it numbers 131,000 young people led by 25,000 adult volunteers in well over 3,000 sites across the country.
Cadet150 honours the role the Cadet Forces play in assisting young people towards responsible adulthood through learning new skills and developing self-confidence, and recognises the contribution the young people themselves make to their local communities.
Central to the national commemorations will be a royal review of the Cadet Forces in central London in July, but celebrations are ongoing throughout the year, all reflecting the spirit of fun, excitement, adventure and community service at the heart of the cadet movement.
The centenary of the Cadet Forces was celebrated in 1960 with a royal parade in the grounds of Buckingham Palace in the presence of HM The Queen and HRH The Duke of Edinburgh. The parade involved 700 cadets and took place on 22 July 1960. The adult volunteers, cadets and many of their families attended a service of celebration and thanksgiving in Westminster Abbey the same day.
Further information about the celebrations in 2010 can be found at Cadet 150.
# # #