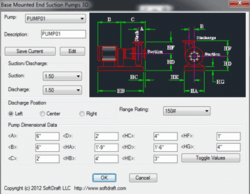 Customers tell us 2D/3D Pump pays for itself over and over again
(PRWEB) July 31, 2012
SimpleCAD announced today it is adding a 2D or 3D pump utility to its CAD software offerings.
The AutoCAD add-on allows you to create pumps from manufacturer data sheets or simply by imputing the dimensional data for each pump.
SimpleCAD's President Erik Zetterberg says "2D/3D Pumps really a unique product at an affordable price. Many customers in the Plant and Piping Industry are looking for a way to create pumps on the fly without having to look them up and re-create them every time. Customers tell us 2D/3D Pump pays for itself over and over again."
Dimensional data may be saved for future use then recalled in a different drawing file for quick reference.
The 2D/3D Pump Utility includes these pump types:

Base Mounted End Suction Pumps
Horizontal Base Mounted Pumps
Vertical In-Line Pumps
To help speed up the drawing process a list of previously saved pumps can be created within the program. In addition you can enter the name of the pump to save for future use or save data entered from the manufactures data sheet.
The price is $ 99.00. Software delivers electronically but a CD is available upon request.
For more about the Pump Software see:
http://www.simplecad.com/2d3d-pumps.htm
About SimpleCAD:
SimpleCAD also offers other various AutoCAD® books which are downloadable immediately after purchased. SimpleCAD has been actively serving the AutoCAD® industry for over 25 years and also offer CAD software for different drawing applications.
Please visit http://www.simplecad.com / email (at) simplecad (dot) com
or call them at 877-933-3929.