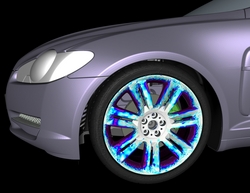 We are pleased to now offer enhanced particle tracking capabilities that allow visualization of phenomena such as accumulation and reflection.
Burlington, MA, USA (PRWEB) October 7, 2010
Exa® Corporation, a global innovator of fluids simulation (CAE/CFD) solutions for product engineering, today announced the latest version of its leading simulation visualization software, PowerVIZ® 4.3, has been released. New and enhanced features include: particle reflection and accumulation, VRML export for streamlined interface with photo-realistic rendering packages, stereo visualization support, and other user interface efficiency enhancements.
With particle tracking simulations, vehicle engineers may evaluate the effects of potential vehicle rock damage, engine bay soiling, or snow accumulation and particle ingestion. Early engineering visualization of particle debris "fouling" of porous media (such as heat exchangers) helps guide engineers on how to best modify designs for optimal performance. Ground transportation manufacturers require soiling simulation capabilities such as particle accumulation to visualize how soiling may disrupt airflow in grilles and air intakes that could negatively impact fuel economy.
"We listened to our customers and added features that will best leverage their PowerFLOW simulations and improve the communication of results within product engineering teams," remarked Jonathan Zarge, Director, Visualization and Graphics Software Development for Exa. "We are pleased to now offer enhanced particle tracking capabilities that allow visualization of phenomena such as accumulation and reflection."
POWERVIZ 4.3 HIGHLIGHTS INCLUDE:

Particle Tracking Enhanced Capabilities: Simulate particle behavior directly in PowerVIZ; track particles of different sizes, momentum and energy to visualize particle accumulation, reflection (bounce) and pass through rates
VRML Export: Ability to export most simulation results visualization items into photorealistic rendering packages, such as RTT DeltaGen®, enables improved communication of flow results to designers, managers; view VRML file in any browser (with free plug-in)
Stereo Viewing: Expanded platform support to include Windows® operating system to view PowerVIZ data in 3-D stereo; with the proper graphics hardware and glasses, your PowerFLOW® simulation data was never easier to communicate
About Exa Corporation
Exa Corporation develops, markets, and supports a suite CAE and CFD simulation software tools including PowerFLOW®, PowerDELTA®, PowerCLAY®, PowerVIZ®, PowerSPECTRUM®, PowerACOUSTICS™, PowerCOOL® and PowerTHERM® along with professional engineering consulting services. Exa's products and services enable engineers to create competitive designs, while shortening product design cycles, and speeding time-to-market. A partial customer list includes: AGCO, BMW, Chrysler, Ford, Hyundai, Kenworth, MAN, Nissan, Peterbilt, Renault, Scania, Toyota, Volkswagen, and Volvo Trucks.
Founded in 1991, the company is headquartered at 55 Network Drive, Burlington, MA, USA 01803. Tel: 1.781.564.0200; Fax: 1.781.564.0299; URL: http://www.exa.com
Exa, PowerFLOW, PowerCLAY, PowerTHERM, PowerCOOL, PowerSPECTRUM, PowerDELTA and PowerVIZ are registered trademarks and PowerACOUSTICS is a trademark of Exa Corporation. Science+computing ag is a development partner of Exa Corporation. Windows is a registered trademark of Microsoft Corporation in the United States and other countries. DeltaGen is a trademark of Realtime Technology AG.
###